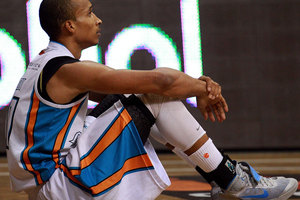 The troubled Gold Coast Blaze have two weeks to convince Basketball Australia they should not be dumped from the National Basketball League.
BA's acting chief executive Scott Derwin notified the Blaze yesterday that the club had until July 31 to provide assurances on several conditions before the club would be granted an NBL licence for 2012-13.
The club's financial woes have already seen veteran James Harvey, who recently attacked the organisation, and Jason Cadee, bail out while Australian representative Mark Worthington has said he would look to play in Europe next season given the uncertainty surrounding the Blaze's future.
Derwin said yesterday his board was grateful for the work the club's owners had put into trying to keep the Blaze alive in difficult circumstances.
He said BA supported their push towards a community partnership model, acknowledging the new proposal contained significant and necessary cost savings.
"This proposal is a good start which BA supports in principle - but the reality is it needs to be fleshed out further," he said in a BA release.
"Ultimately, BA has a responsibility to the league and the broader basketball community to insist the Blaze moves forward with a viable and sustainable business model.
"That is why the board has asked the owners of the Blaze to provide further detailed information before the club's participation in the 2012/13 season can be approved."
- AAP