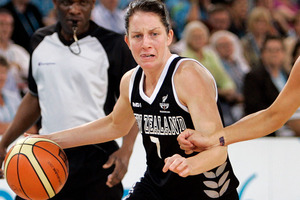 The New Zealand women's basketball team have bounced back from the disappointment of defeat and gained a measure of revenge with a 67-64 win over Australia's Emerging Opals in China last night.
After going down to the Australian side last week and having victory over the hosts stolen from their grasp 24 hours earlier, the Tall Ferns began strongly to hold a 32-29 halftime lead.
A dominant 22-14 third quarter gave them a double-figure advantage heading down the home stretch, but they had to withstand an Aussie comeback over the closing minutes.
"Our mental toughness was tested tonight by a young and talented Australian team that all play professionally in their WNBL," coach Kennedy Kereama said. "I thought we did well to bounce back after investing so much emotional energy against China.
"We showed toughness and class to back up after last night - the girls look very focused at the moment."
The Emerging Opals had the better of the Kiwis in their first game so this result showed some effective adjustment by both players and coaching staff, particularly proved by forcing the Australians into 21 turnovers.
"We came out far more aggressively than we did last time and had the start we needed, connecting on a number of plays and executing our defensive strategy well," Kennedy said. "We really forced them out of their stuff offensively, which was very satisfying as a coaching staff."
Guard Micaela Cocks again led her team in scoring with 18 points, while forward Jillian Harmon had 14 points.
But the Ferns also found some useful performance from their reserves, with veterans Kate McMeeken-Ruscoe (seven points), Charmian Mellars (four points, three rebounds and two steals) and Noni Wharemate forming the core of a sold second unit.
"We're a team that needs contributions from our bench and it's important we can continue to put scoreboard pressure on teams when we make rotations."
Tonight, the Tall Ferns play the last of their four-nation tournament fixtures against African champions Angola, who have already qualified for the London Olympics. An under-strength New Zealand, missing Mellars, Wharemate and centre Karlene Kingi for religious reasons, beat their rivals by 10 points last week and have a chance to even their record in China.
"One of the realisations from this game was that, even after getting the win, there are still things we need to improve," Kereama said. "The Australians helped us with those observations."
Later this month, the Tall Ferns head to Turkey for the Fiba Olympic qualifying tournament, hoping to snatch one of five remaining spots in the women's draw at London.
Tall Ferns 67 (Micaela Cocks 18, Jillian Harmon 14, Antonia Edmondson 12)
Australian Emerging Opals 64
HT: 32-29

- APNZ