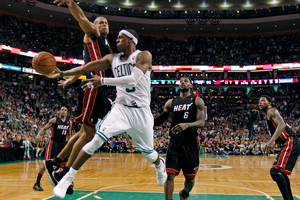 The Boston Celtics have evened the NBA's Eastern Conference finals series with a 93-91 overtime victory over the Miami Heat in game four.
The Celtics had led by as many as 18 points earlier in the game, before the Heat mounted a comeback to force extra time.
In a low scoring extra time, the hosts outscored the Heat 4-2 in the added five minutes.
Celtics point guard Rajon Rondo, who had 15 points and 15 assists, is unrepentant after commenting at half time the Heat kept crying to the referees.
Rondo says he doesn't take back what he said, because it's true.
With the series level at 2-all, game five in in Miami on Wednesday.