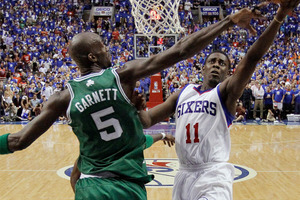 The Philadelphia 76ers kept their NBA season alive with an 82-75 victory over the Boston Celtics today to force a seventh game in their Eastern Conference playoff series.
Jrue Holiday finished with a team-high 20 points and six assists and Elton Brand had 13 points and 10 rebounds for the Sixers who evened the series at three games each and are now 5-0 in the playoffs in games following a loss.
Philadelphia once again rebounded from a 101-85 loss in game five by rallying in the second half to beat the favoured Celtics.
It wasn't a work of art but the eighth-seeded Sixers got the job done. Philadelphia missed 11 free throws, hit just one-of-nine from three-point range and were out-rebounded 48-37. But the Sixers had five players reach double figures in scoring.
Boston was equally inept at times, shooting just 33 per cent from the floor and committing 17 turnovers.
Paul Pierce and Kevin Garnett provided 24 and 20 points for Boston, who kept within striking distance by making 20-of-23 from the free throw line.
Game five hero Brandon Bass finished with just eight points on two-of-12 shooting. His 27 points sparked Boston to a 101-85 rout in game five and a series lead.
Mickael Pietrus, of France, drained a 22 foot jumper from beyond the arc to give the Celtics a 36-33 lead at halftime.
This rivalry began back in 1949-50 when the 76ers were based in Syracuse.
The 76ers and Celtics have met in the post-season 11 times with Boston winning seven of those.
-AAP