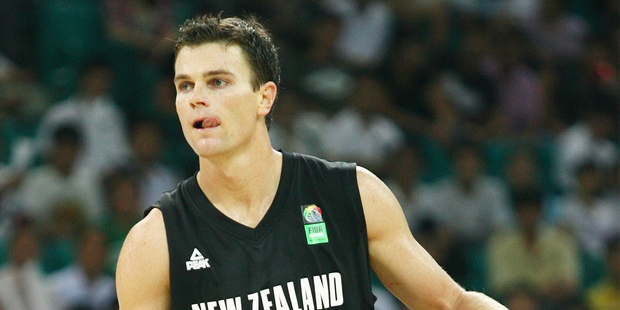 The Tall Blacks' chances of qualifying for the Olympics have suffered a major blow, with captain Kirk Penney today announcing his withdrawal from the campaign due to injury.
Penney, who has represented New Zealand since 1999, tore a calf muscle while playing for Fuenlabrada in the Spanish ACB and has opted for recovery instead of risking further damage during the Tall Blacks' upcoming Olympic qualifying campaign.
"The decision ultimately comes down to my body," the 31-year-old said. "I tore my calf and then tore it again trying to come back too early. This forced me to miss the last five games of my season in Spain.
"I'm rehabbing my injury, but won't be ready for the Tall Blacks campaign this year.
"Representing New Zealand on the world stage is something I've always been honoured to do and not being able to play in an Olympic qualifying year is particularly tough.
But I feel the team is in great hands with a fantastic coaching staff and young talent that keeps reaching new heights."
Penney filled in as Tall Blacks captain in 2009 when incumbent Pero Cameron was unavailable and took over the role when Cameron retired to the coaching staff last year.
Over the past decade, he has emerged as a highly respected player in international basketball. In 2003, Penney became the second Kiwi - after Sean Marks - to appear in the NBA and has won championships in the NBA development league, as well as in Israel, Lithuania and Australia while playing for the Breakers.
He was most valuable player of the Australian NBL in 2009 and led the Breakers to their first title two years later.
The hot-shooting guard has appeared for the Tall Blacks at two Olympics and three world championships, and was the second-leading scorer overall (24.7 points per game) at the 2010 world championships in Turkey.
"When you lose your best scorer from the the last several years, the impact on the team has to be big," Tall Blacks ad coach Nenad Vucinic said. "We'll have to show strength and absorb this blow by everybody raising their level of performance.
"It could be a chance for others to step up, but it'll also be a challenge for our coaching staff to adjust to the different look of our team."
Vucinic will assemble his national squad early next month and will prepare the Tall Blacks for the Fiba Olympic qualifying tournament in Venezuela on July 2-8.
New Zealand faces Macedonia and Angola in pool play at the 12-team event with three spots still available in the London draw.

- APNZ