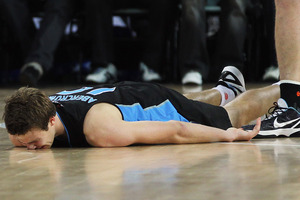 By just about every measure the Breakers' grand finals series against Perth Wildcats shapes as a classic.
Both teams are very good. Each despises the other. Both have scores to settle. There is also a good dollop of intrigue, with the Wildcats suggesting they were rope-a-doped by Mika Vukona's comeback in last year's semifinal series and aren't about to fall for the same trick twice; they aren't swallowing any of this bunkum about Tom Abercrombie's ankle injury.
To recap, last year Vukona was declared no chance of playing in game two after limping out of an opening game that saw the Wildcats score a crushing victory in Auckland, only to pitch up in Perth and smash the Wildcats on the boards as the Breakers levelled the series in stunning fashion.
To be fair to the Wildcats, they would also have noticed Cedric Jackson rolling through Auckland Airport in a wheelchair en route to a similarly miraculous comeback from a sprained ankle against the Townsville Crocodiles in this year's semifinals series.
"We expect to see every one of their players one hundred per cent," key Wildcats guard Kevin Lisch said. "Last year Vukona hurt himself and came back to Perth and killed us. They will be ready to go."
Former Breaker turned nemesis Shawn Redhage echoed that sentiment.
"There's no question he will play and he will be fine," Redhage said. "The adrenalin of a grand final, I would be very surprised if he doesn't even play well. He's a great player and a grand final, you don't get these too often, that emotion will take care of a lot of that pain."
If the emotion doesn't a painkilling injection will, with Abercrombie declaring he will get a needle if necessary.
Yesterday he was still being cagey about his prospects, saying he "remained hopeful", however the twinkle in his eye suggested he will be on court when the ball is tossed in the air.
If he does play he is expecting the Wildcats to thoroughly test his mobility as well as his mettle.
"I'm sure they'll probably try to go at me a couple of times but as long as I'm out there I'll be ready for whatever they throw at me," he said. "If they try to run some plays at me that's fine. I'll sit down and play defence like I always do."
While hypothetical in nature, they were hardly the words of someone not expecting to play.
How much he plays, and how effective he proves, is another matter.
While a below par Abercrombie would certainly weaken the Breakers, the strong showing of the team's bench in the game two and three victories over the Crocs suggests it should be far from fatal.
Veteran sharpshooter CJ Bruton has made his expected step up in intensity and execution, while Dillon Boucher and Leon Henry also produced significant efforts against the Crocs. The standout off the bench, however, has been giant centre Alex Pledger, who produced coming-of-age-type performances to out-duel the league's premier centre Luke Schenscher in games two and three of the Crocs' series.
"Last year I might have given a little too much respect to guys like that, not truly competed against them as hard as I could," Pledger said. "That is something I have changed this year.
"Coming off the bench you are expected to match or even up the intensity from the tone the starters set and I think all of us did a good job of that in games two and three.
"Dillon has kind of wound back the clock a bit the last three games and Leon has come in and played great ... He is going to have similar opportunities in this series with the uncertainty around Tom. Hopefully we can come and contribute in this series like we did the last one."
Perhaps the only element missing from the series will be an appropriate level of interest across the Tasman. Last year's Breakers triumph was greeted with fervour in Auckland but created barely a ripple in Australia. With no team from a major city such as Sydney, Melbourne or Brisbane involved, this year's climax will be equally ignored on Australia's eastern seaboard. Although that is hardly ideal for a sport still trying to re-establish itself in those major markets, the reality is this finals series features the two current superpowers of the ANBL.
"We have been the best two teams in the league all season," Pledger said. "People are talking it up that it could be one of the all-time great series."
GAME ONE
* Breakers v Perth Wildcats
* Vector Arena, 7.30 tonight
* Live on Sky Sport 2.