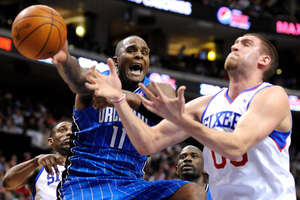 With injuries and infighting threatening to wreck their NBA season, the Orlando Magic found the ideal opponent to fix their problems yesterday - the reeling Philadelphia 76ers.
Dwight Howard had 20 points and 22 rebounds as the visiting Magic ended their five-game losing streak with an 88-82 victory over the 76ers.
Glen Davis had 23 points and 12 boards for Orlando, who were without injured starting forwards Ryan Anderson and Turkey's Hedo Turkoglu. Just two days ago, Magic coach Stan Van Gundy revealed he knew Howard had asked management for his removal.
"This is the best I've felt about this team the entire year," Van Gundy said.
The drama surrounding Howard's future appeared to reach a temporary end at last month's trading deadline, when he agreed to return to the Magic next season.
But Orlando (33-23) had been just 4-7 since Howard's decision, and Van Gundy's revelation threw the team into further turmoil.
The Magic had dropped from third to sixth in the Eastern Conference standings.
"I'm not a bad guy," says Howard.
"I've never been a bad guy my whole life. But it happens. Everybody goes through trials and tribulations or whatever. This is what makes you. I'm not going to let it break me."
The Sixers (29-26) have their own problems. The NBA's top defensive team are just 9-17 since a 20-9 start and are in danger of missing the playoffs after holding the Atlantic Division lead for three months.
"It's disappointing to me for us to waste that type of defensive effort," Sixers coach Doug Collins said.
Meanwhile, Paul Pierce scored 24 points to spark the visiting Celtics, who ended Indiana's four-game winning streak and moved two games in front of the Sixers. Danny Granger scored 20 points for the Pacers.
Los Angeles star Kobe Bryant was missed in his side's clash with the Phoenix Suns, who scored a 125-105 home win.
Former Laker Shannon Brown scored 20 of his 24 points in the third quarter for the hosts, who tied Utah for ninth place in the Western Conference. A shin injury forced Bryant to sit out for the Lakers, who got 30 points and 13 rebounds from Spain's Pau Gasol.
Dallas suffered a 94-89 loss to Memphis, with Rudy Gay scoring 25 points for the Grizzlies, who held on for their seventh win in nine games.
Dirk Nowitzki scored 17 points for the visiting Mavericks, seventh in the West.
-AAP