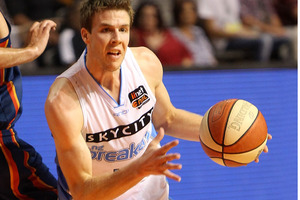 Thomas Abercrombie could smile today in the knowledge he could be fit to play for the Breakers in the Australian NBL finals series against Perth which starts in Auckland on Thursday.
Twelve hours earlier his face told a different story when he reacted with rage following the foul by Townsville Crocodiles forward Peter Crawford which led to his sprained left ankle.
With only 90 seconds remaining at the Vector Arena and the Breakers well ahead in the deciding match of the semifinals series, Abercrombie, on a fast break, attempted a dunk and was checked from behind by Crawford which caused him to land awkwardly.
Abercrombie, went to remonstrate with Crawford, who was called for an unsportsmanlike foul, but could only hobble and fall to the floor, the knowledge he could miss the finals series against the Wildcats - the Breakers' big rivals - quickly dawning.
"I was angry because I thought that was it," said Abercrombie. "I knew the game was over at that stage and I thought I was done for the finals and I was pretty disappointed and frustrated.
I didn't think the foul was necessary but I don't hold any grudges. Pete's a competitor and he was obviously upset that they were losing and it was just a hard play-off foul."
Abercrombie said while there was ligament damage, he didn't tear or rupture anything and playing in game one at Vector Arena on Thursday night was a possibility.
"It's certainly not as bad as I thought when I first went down. The first couple of days are going to be crucial, to see how it pulls up after the swelling goes down."
Team physiotherapist Anousith Bouaaphone's record suggests 24-year-old Abercrombie is right to feel positive. Last year the medic worked a minor miracle in helping to heal Mike Vukona's knee for the semifinal play-offs and last week he fixed Cedric Jackson's ankle for the Breakers' consecutive victories over the Crocodiles.
"The diagnosis for Tom is a medial ligament strain of his left ankle," Bouaaphone said. "Initially it looks to be a grade two strain which for the average person is around a three to four week recovery. But Tom is an elite athlete and is young and very fit so his healing time is going to be quicker than it would be for your 'normal' person.
"The next few days we will work quite hard to get the ankle ready in terms of his rehab and healing, we have strategies in place to do that and as you have seen with Cedric we are used to this situation as we manage the welfare of the players and ensure they are in condition to play."
Abercrombie said Crawford apologised after the Breakers' 97-80 victory, a performance from the home team in stark contrast to the disappointing defeat in game one at the same venue a week earlier which had put the Breakers' hopes of winning back-to-back titles in real doubt.
"He was very apologetic. He wanted to make sure I knew there was no malice in it. I respect Pete, he's a hell of a player and a great competitor. I think he felt horrible about it."
Now Abercrombie, who scored 19 points in another wonderful team performance from the Breakers, hopes to be fit for a series he calls a "fitting final".
"We've had some great battles this year and we're in for a couple more. They deserve to be in the final as well so it's got the makings of a great series."
Australian NBL Grand Final Series
NZ Breakers (1st) vs Perth Wildcats (2nd)
(NZ times)
Game One: Thursday, April 12, 7.30pm, Vector Arena
Game Two: Friday, April 20, 11pm, Challenge Stadium, Perth
Game Three*: - Tuesday, April 24, 7.30pm, Vector Arena
* if necessary
- APNZ