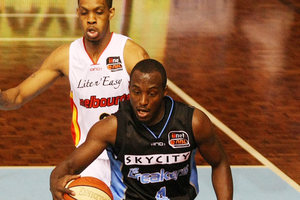 The Breakers go into tomorrow night's winner-takes-all semifinal clash with Townsville at Vector Arena with momentum, confidence and a red-hot bench on their side.
If injured point guard Cedric Jackson lit the fuse for the Breakers' season-saving win in north Queensland last night, it was the bench brigade who brought the dynamite to demolish the Crocs and square the series.
At halftime, the Breakers' second unit had provided more than half their side's scoring, helping take the North Shore club to a 14-point lead at the major break.
By the end of the 94-83 win, CJ Bruton led the Breakers with 18 points, Leon Henry had pulled down a team-high 8 rebounds and the visitors also received key contributions from Alex Pledger and Dillon Boucher.
And Henry was backing the bench boys to help deliver the knockout blow in tomorrow's deciding third game as the Breakers seek to advance to their second straight finals appearance.
"That was probably one of the biggest parts for us as a team - just everyone coming off the bench with great energy and helping us in all manners of the game," Henry said. "Hopefully, we can bring that same intensity going into tomorrow's game.
"It's always going to be a tough game, because it's playoff basketball, but we should come round and get this win."
That possibility will be markedly increased if the Breakers see a similar output from their second string, particularly their contribution in the opening half.
Alex Pledger sparked a 14-1 run with some inspired play in the paint as he grabbed 12 first-half points, and Boucher's hustle saw the Kiwi veteran score four points, dish out four assists and grab six boards.
"Coach [Andrej Lemanis] is preaching day-in, day-out to us bench players to just go out there and contribute in any way we can," Henry said. "I just found out it easy getting rebounds and helping our team get second chances."
When Jackson rolled his ankle at practice during the week, nervous eyes were cast toward the bench where 36-year-old Bruton was expected to be required to fill in.
But when Jackson, last seen in a wheelchair at Auckland airport, passed a fitness test to take the court, Henry said his side were given a huge pre-game boost.
"It was awesome. We were all happy and supporting him. In the back of our minds we always thought he'd still want to play. To see that he went out there and played a 30-minute game and looked at full potential, it definitely helped us out."
Jackson played 27 minutes after putting his fear of needles behind him to receive a pain-killing injection, but Bruton showed he still had the wares the run the offence and provide a vital scoring burst.
As well as being a leader on the bench, Bruton is part of a veteran Breakers presence who triumphed through a similarly perilous position in Perth last season.
Henry said that experience meant his side had "no doubts" they could turn around the series after a 17-point home loss in game one.
"Just having that experience together as a team last year, it just gave us all the confidence that we knew we could go out there and bring it back home for the decider."
Henry said now the Breakers have seized momentum in the series, they had their eyes on payback tomorrow night.
"We still have a feeling in the back of our minds that we owe the fans for that first loss at Vector and hopefully we can repay them."
- APNZ