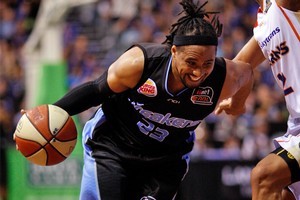 CJ Bruton has signed on for another two years with the championship winning Breakers basketball club.

The veteran Australian guard thought long and hard about his decision and did attract interest from other clubs, but he has turned down all other offers to say with the North Shore based club.

"Family wise from a clubs perspective this club has a bright future, if I left I wanted the club left in good hands but knowing I can still help a ball club was a big part of this decision," he said.
"After talking to Drej, Paul, Liz and Richard I thought it was a good opportunity to be a part of this and to finish my career here.
"To come across from Australia to New Zealand to win a title but also to then carry on and probably win two more championships and put the club in an elite spot and for myself to be part of something no one will ever take away from us."
Bruton is happy to admit this will bring the curtain down on his illustrious playing career, one that has brought a great deal of success at both club and international level.
"This will be my last contract, my last playing gig so it is exciting. It has been a fun ride," he said.

Bruton will not play in the off-season but will rest and rehab to be ready and in prime physical shape for the 2012/13 iiNet Championship with the Breakers. For now though, the 36 year old guard is focused on the Gold Coast Blaze on Thursday night and after a final season road double header the week after, another round of play-offs as the champions chase another title.

Breakers head coach Andrej Lemanis is delighted to have another piece of the playing jigsaw sorted for the next two years.

"There's a reason why everywhere CJ goes the teams are successful, he knows what it takes to have teams win. It is not only on the court but off the court, just his experience, his ability to communicate to his team mates, give them confidence, all those things play a big part in the overall puzzle so obviously we are delighted to have secured all for that for another two years."

Lemanis says fitness was discussed but in no way is that any different to any other player and he has no doubts as to Bruton's capabilities.

"He has managed himself well through this year, there is always the health aspect but he is good on the self-discipline and does a good job of looking after his body, does the rehab and is a true professional where that is concerned. We have no doubt he will be healthy for the next two seasons but again, the role CJ plays extends beyond what happens on court, there are so many areas in which he contributes to us."
Bruton will suit up for the Breakers tomorrow night for the visit of the Gold Coast Blaze at the North Shore Events Centre. The game has been sold out for over a week, the 7th sell out this season for the Breakers.
- HERALD ONLINE