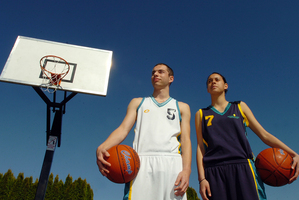 Extremism is a dangerous animal whether it be in politics, religion or role model behaviour. Life is all about the good with the bad, the Ying with the Yang.
I bring this up because having retired noisily many years ago from the coaching ranks I decided to have children at the beautiful age of fifty. I'm now 62 and my son is 11 thus I found myself coaching intermediate basketball for St. Heliers Primary. The joy was working with the kids, the nightmare was being involved with administrators and teachers.
The mantra at this level is all about being a "good role model" to the point that they're systematically stunting the emotional growth of the children. When I walk into a gym I'm coaching (teaching) the entire time. There are so many lessons you can teach children through their participation in sport on and off the field of play if you've got the gumption to do so. Most don't, particularly the numerous teachers I observed sitting like bumps on a log doing nothing.
I learned plenty when I took over the reins of my son's primary school basketball team. Top of my list was that I can still be naive. Schools even at this level cheat.
I also appreciated the old cliché about leopards not changing their spots. In my case, that was so true. I'd been out of coaching for twenty years but my competitive spirit was as heated as ever. I told the team we weren't there to shake hands, our first goal was to win.
Oh the horrors, yes... I said what has become the nastiest word connected to children's sport - winning is important!
Was it easy? No! My staunch unrelenting attitude caused some problems. Was I a good boy? Not always. I pushed the kids hard and never gushed that they played well when they hadn't. Whenever we played badly I held back the big candy bar prize for player of the day... in my world if you don't deserve praise then you don't get praised.
I don't reward poor playing habits. In today's society, that makes me a dinosaur - an old fashioned guy with standards that must be met with discipline and commitment. That doesn't mean I berated them for their mistakes I just didn't reward them falsely.
And as with most teams, even a team of 11 year olds, we had a defining moment. We were going to play one of the top teams, one they had never beaten and I asked one of my players if he was fired up to play? His response floored me. 'Maybe.'
I called the rest of the team over for a quick meeting and relayed to them what I was just told. I barked (loudly and directly) that this type of attitude was totally unacceptable and if they weren't fully committed they could forget it.
"I'm 62 years old, guys, and I don't really need this crap, and I'm definitely not kissing any 11-year-old's ass!" We played a blinder, edging the other team by three points. It was one of our better games all year and from there we really gelled as a team.
The main problem I had coaching at this level was with other adults and particularly teachers treating my kids like babies.
The grown-ups walked on egg shells around the kids. They treated the kids like they might break if actual demands were put on them and they had to measure up.
Most adults underestimate their own abilities and kids are no different they need a strong outside influence to push them to reach their potential. There's so much concern and effort put into being a "good role model" whatever the heck that is that they're actually cheating the kids by not pushing them to excel.
Kids aren't dumb, they know when you're being honest with them and they can't get away with any nonsense. In fact they crave strong decisive leadership, they thrive on it. Did I lose any kids? Yes. The ones who weren't able to commit with passion dropped off.
That's life -- you can't please everyone. I don't want to please everyone.
But, here's the funny thing, once the word got out that there was an honest basketball programme I had more kids on my hands than I could handle.
Did we have success, yes! Not only did they win (yes, winning is important) a lot of games including a championship they went beyond that and began to learn what it takes to be a competitor. And trust me there's an enormous difference between competitors and participants. Every kid on that team took a journey with me and developed on and off the court warts and all.
* John Dybvig is a former professional basketball coach