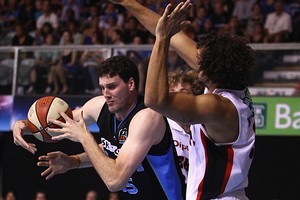 Their rivalry doesn't quite match the bitterness of the Celtic-Rangers football derby or tension between India and Pakistan cricket but the Breakers and Perth Wildcats are the biggest of adversaries on the basketball court and Sunday's matchup isn't likely to be lacking feeling.
Games between the two sides are traditionally feisty but Perth will also bring a desperate element to the match given their chances of finishing the regular season on top of the table, and gaining home court advantage for the playoffs, are teetering.
They were toppled 83-78 by Cairns at home last weekend and won't want to loose any more ground to the Breakers who have the chance to establish a two-game lead on the table with a game in hand.
Perth led 49-38 at halftime against Cairns but the Taipans wrestled control of the match in the third quarter with a 26-9 run. It wasn't the first time Perth have experienced a third-quarter meltdown this season and assistant coach Shawn Dennis said they needed to be mentally stronger when things went against them.
"The worst thing about us as human beings is that we fill our minds with all sorts of things," Dennis told PerthNow. "If things don't quite go right, we fill our minds with all the things that build tension and anxiety and then, of course, it's very difficult to perform."
The Breakers will hope to add to the tension but Perth have a history of bouncing back from poor results and are extremely difficult to beat on their home court.
They were beaten by Gold Coast before the two teams met at Perth in December only for the Wildcats to hammer the Breakers 86-62 the following week.
"They seem to do it every time we go to play them, they seem to have a bad game and come out fired up against us," Breakers forward Mika Vukona joked. "I don't know, maybe it's a tactic they want to use. But they are vulnerable like any team.
"Every game against Perth is ugly. We went in with the wrong mind frame [in December] and got our arses kicked. This one we are better prepared for it and are pretty confident going there.
"It's a big game. It's a massive game for us. It's a good chance for us to solidify that top spot against one of our bitter rivals out there."
The Breakers were due to review the tape of Cairns' defeat of Perth last weekend but they would do worse than have a look at their own victory over Perth a month ago when they won 83-77 at the North Shore Events Centre. The Breakers hustled Perth's much-vaunted shooters who made only four of 20 three-pointers and shot at only 37.3 per cent overall (the Breakers made 48.3 per cent of their shots).
It's a template Breakers forward Gary Wilkinson expects them to follow again.
"Teams get nervous when they play Perth because they feel like they have so many great shooters but I think we showed how we can beat them," he said. "If we limit it to one shot, and make them shoot contested jumpers, that's good for us.
"Perth are a physical team and at home they up their physicality. Going there with the team we have, and understanding what it takes to win there, we just have to go out and make them match our intensity and surprise them with how ready and willing we are to put it on the line to get it done."
- APNZ