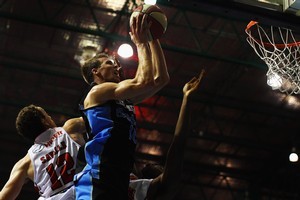 The Breakers today confirmed they will play a pre-season game against Wollongong in Christchurch in September as a gesture of support to a city still recovering from last year's devastating earthquakes.
The defending ANBL champions will play two matches in the South Island - the other will be in Dunedin - as they prepare for the 2012/13 season.
Breakers general manager Richard Clarke made the announcement today while the team were in Christchurch on a goodwill visit to the city.
Breakers players, coaches and management spent time in the city touring the Red Zone, mixing with the public and holding coaching clinics for players from Canterbury age-group sides. They also donated cash, basketballs and coaching tools to Canterbury Basketball.
"We have been trying to get to the South Island for some time to repay the loyalty of supporters down here and helping Canterbury Basketball in difficult times," Clarke said.
"While we are an Auckland-based team, we see our responsibility as very much a nationwide one in terms of promoting the game and our club values.
"It is also important that we play a part in helping rebuild the city of Christchurch and, while we can't help directly with bricks and mortar, we can do something to help the morale of the community by bringing the Australian Basketball League to town, albeit in pre-season mode.
"The games will be as close to the full production as we can muster against a full-strength Wollongong Hawks team that is extremely competitive against the Breakers. We will bring our full roster on the road and not only play two games but also look to spend some time in the community with schools and local basketball programmes."
The Breakers are also likely to play a pre-season game in Hamilton, where a sold-out game was held at the new Claudelands Arena last year.
- APNZ