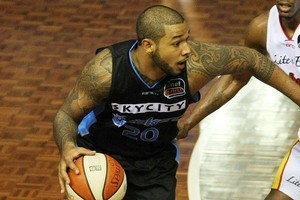 The New Zealand Breakers are playing hardball with BJ Anthony and have imposed a 10-day suspension on the forward after he turned up to a training session on Saturday hungover.
His teammates pushed for the suspension, supported by club management and coaching staff, with head coach Andrej Lemanis informing the player early this week.
"BJ had a big night on the weekend and turned up to training the next day hungover and worse for wear, and was not in a position to contribute 100 per cent to training," franchise chief executive Richard Clarke said today.
"The team have decided everyone needs to buy into the expectation that everyone should be contributing 100 per cent every day at training."
Although no time was good for such a suspension, the decision ensured everyone at the organisation knew their responsibilities heading into the playoffs, Clarke explained.
It is not Anthony's first alcohol-related incident. The 23-year-old son of Kiwi NBL legend Benny Anthony was caught drink-driving on the night of the All Blacks' World Cup triumph.
He spoke out about his poor decision-making leading up to the incident, which happened around the time his Breakers team-mate and close friend Corey Webster was sacked for a second failed drugs test.
The Breakers gave Anthony an official warning about his conduct and instituted a process involving counselling and mentoring, but this time, his team-mates' intervention and suspension means Anthony will miss two games against Wollongong - at the WIN Entertainment Centre in Sydney on Saturday, and the North Shore Events Centre on February 16.
Webster had his Breakers contract torn up late last year after testing positive for synthetic cannabis product Kronic in April.
That came after he was suspended from all basketball for a year by the Australian Sports Commission after a failed drugs test for cannabis use a year earlier while playing in the New Zealand NBL.
Despite the incidents, Clarke said drugs and alcohol were not an issue at the Breakers and there was no place for them in the club culture.
"The actions taken by the rest of the team have shown drugs and alcohol are not a problem at the club and if an individual doesn't buy into what the club expects of its players, then they have to deal with the consequences which is what BJ and Corey are dealing with now," Clarke said.
The defending ANBL champions side are on top of the table with a 15-5 win-loss record and eight games left in the regular season. Josh Bloxham will travel to Wollongong as Anthony's replacement.
- APNZ