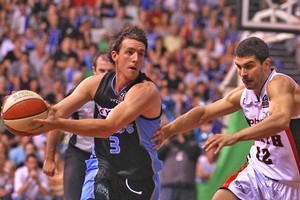 The Breakers will have to do something they haven't done for some time this week - pack their bags.
The North Shore-based side has played their last four games at home, all sellouts, but they take to the road this weekend for the first time in a month.
They do it on the back of an impressive run of form. The Breakers lead the ANBL standings ahead of Perth Wildcats, with 15 wins and five losses this season, and remain unbeaten this year. Their last four games, including their stunning 83-77 win over the Wildcats on Thursday, have been in front of sellout crowds.
But forward Gary Wilkinson said there's no room for complacency in his team ahead of Saturday's trip to Woollongong.
"We are one of the best teams to play on the road, if not the best. It's all just part of it, and for us it's a time to get some more wins under our belts,'' Wilkinson said.
Despite their 5-14 win-loss record, Woollongong are not a side to take lightly, as they showed with their 81-63 defeat of the Breakers in November.
They have also added former Melbourne import Ayinde Ubaka after he was fired by Melbourne Tigers chief executive Seamus McPeake following a loss to Gold Coast Blaze on January 15.
"Woollongong are one of those teams who can be good on any given night, and they could be especially dangerous now with Ubaka coming into play for them,'' Wilkinson said.
"We definitely need to be wary of him on the court, and because we know what Woollongong are capable of, I don't think complacency is creeping into the team at all.
"We are just getting prepared mentally and physically for this game - our mission all year long has been keeping a good positive attitude and that's what we intend to do for the rest of the season.''
Despite missing a few shots in a friendly wheelchair basketball game, run by the Halberg Trust and New Zealand Wheelchair Basketball for disabled youngsters at North Shore Events Centre yesterday, Wilkinson is in the middle of a stellar point-scoring season, which has seen him contribute 324 points at an average of 16.2 a game.
"It's a lot harder than it looks. It would be really good training,'' Wilkinson quipped following the wheelchair session.
As a team, Wilkinson said the Breakers needed to continue working on their defence and getting rebounds. "They are key to every game. We are enough of a threat offensively and if we play defensively and nail our rebounds, we are a tough team to beat,'' he said.
- APNZ