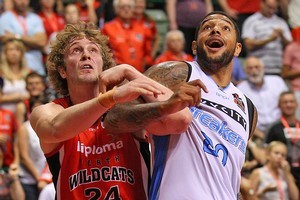 It's just another game, apparently.
The coach is says so and he's backed by the players. Even the office staff blurt it out as they wander past. They are all singing from the same songsheet in such a tuneful fashion they should give thought to starting a team choir.
It is, however, most certainly not just another game.
It is one (Perth) versus two (Breakers) at the North Shore Events Centre tomorrow night in a match-up most expect to see in this year's ANBL grand final series and one that could decide home court advantage heading into the playoffs.
It's the first time the Breakers have met Perth since their 86-62 schellacking at the hands of the Wildcats on December 23 and the only time they will meet in Auckland this campaign.
Both teams boast 14-5 records and are in irresistible form. The Breakers hammered Sydney by 29 points in front of nearly 8000 fans at Vector Arena last Friday to extend their winning run to four games - Perth countered by trouncing Townsville by 32 points to win their sixth consecutive match.
It also promises to be the fifth-straight Breakers home game they have sold out and the first time Perth has played here since their defeat in game three of last year's semifinals.
From whatever angle you look at it, it has the makings of a classic.
"It's just another game," Breakers coach Andrej Lemanis deadpanned, pointing to the fact they play 27 others before the playoffs.
"What are you going to do? Try harder? Both teams want to win. It's a function of how you execute as opposed to what they are trying to execute and, at the end of the day, the sun will come up on Friday and we all move on."
But one team will be in a much better place on Friday morning.
The Breakers showed last year the value of home court advantage when they won both the semifinals (against Perth) and finals (Cairns) in three-game series. On each occasion, they earned the right to play the third match in Auckland.
The Breakers also have a tricky end to their season with another visit to Perth followed by home and away fixtures against Townsville (third) and Gold Coast (fourth).
They have an unbendable belief they can beat any other side in the league, home or away, but the Breakers have actually dropped four of their nine games on the road this season.
Lemanis continues to oversee physical and often feisty training sessions where his players bang bodies and talk trash. It is a by-product of their limp display over the Christmas period, when they were touched up by both Perth and Cairns, and they have since won their last four.
"Physical trainings are working out well for us," said forward Mika Vukona, who enjoys the rough stuff in the paint. "I think we will just keep going down that track.
"Yes, it's just another game," he agrees before adding: "But it's going to be good. Nothing against the other teams but this is one you really look forward to every season. We have a good rivalry against this team.
"It's like looking in the mirror and playing yourself. They are physical, in your face, pressing. We just have to play how we would do it in training."
Just like any other day, then.
- APNZ