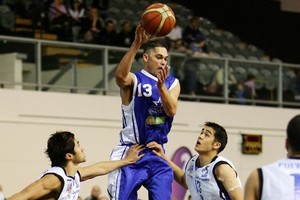 Judd Flavell will coach the Auckland Pirates basketball side next season, replacing Kenny Stone.
Flavell brings with him many years experience as Breakers assistant coach and will be supported by Dillon Boucher and a yet-to-be-named assistant coach.
"Coaching the Auckland team presents a true challenge in my coaching career and an opportunity that I intend to deliver on," said Flavell.
Returning players from the 2011 team will be Boucher, former Junior Tall Black Brook Ruscoe, Nick Barrow and Houston O'Riley.
Key new signings include NBL finals MVP Lindsay Tait, who returns to Auckland to not only play for the Pirates, but run basketball operations out of the Youthtown gym in central Auckland in conjunction with Basketball Auckland.
League MVP Alex Pledger has also signed for the Pirates after an inspirational stint with Waikato. Hayden Allen, another ex-Waikato player, provides additional outside shooting firepower.
Former Stars player Reece Cassidy re-establishes his Auckland credentials in 2012.