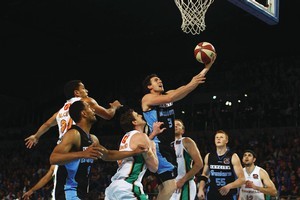 Reigning NBL champions New Zealand have cleared out at the top following a mid-season surge, but closest challengers Perth appear to be lacking self-belief.
The Breakers (10-3) made it five wins in a row with a 85-65 home conquest of Cairns (6-6), the team they vanquished in last year's grand final series.
Second-placed Perth (8-5) crashed to a 77-74 away loss to Gold Coast (5-5), surrendering a 21-point second-quarter lead.
"These boys just don't believe in themselves, you get a bit sick of it as a coach," Perth coach Rob Beveridge said.
"You're trying to pump them up and tell them how good they are, but they've got to have a little bit more self-belief."
Blaze and Boomers guard Adam Gibson torched the Wildcats with a 28-point haul.
Perth had Matthew Knight stretchered from the court with suspected concussion after crashing heavily in the final term.
While four of the Breakers' five-win streak have been at home, all have been by decisive double-digit margins.
The departure overseas of prolific guard Kirk Penney appears to have been well and truly covered by the recruitment of American Cedric Jackson and Australian Daryl Corletto.
Both were prominent in the win over Cairns, the last team to beat the Breakers.
Jackson rattled off 12 straight points in the last quarter and finished with 18, seven assists and six rebounds.
Corletto scored an NBL-career high 26 points, netting six of his eight three-point attempts.
"It went my way in the first half, but I knew that would open the key up for Cedric to blow by everyone in the second," Corletto said.
"That's the beauty of this team, we've got so many options."
In the battle of the stragglers, Adelaide (4-8) scored a thumping 87-63 home win over Wollongong (3-9).
Import Diamon Simpson tallied 22 points and 10 rebounds and centre Daniel Johnson 21 points for Adelaide, who last week lost captain Adam Ballinger and his deputy Nathan Crosswell to season-ending injuries.
- AAP