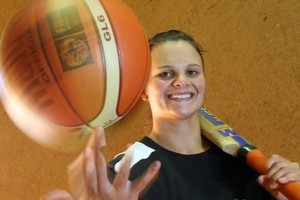 New White Ferns' captain Suzie Bates admits she might have to spend less time on the basketball court in the future.
The 24-year-old sporting all-rounder was this morning announced to lead the national women's cricket team, replacing the retired Aimee Watkins, which is likely to scupper any ambitions to play basketball at next year's London Olympics.
Bates, an opening batsman and right-arm medium-pace bowler, played basketball for New Zealand at the 2008 Beijing Olympics.
Balancing both sports has been manageable in the past for the part-time student, but that might change with her new appointment.
"It's pretty exciting and I knew there was a chance of leading this team but there are obviously other players who had the skills to do it,' she said. "So I'm pretty excited to have been given the opportunity.
"I've been balancing the two [sports] for the last eight years and I've been very fortunate to be able to have done both. Obviously captaining New Zealand in cricket is something that is not easy to turn down and it does mean that basketball's in the backseat but I still love both games and, at the moment, the cricket's at the forefront and I'm still committed to that. But it doesn't mean basketball won't still get a chance later down the track.''
The Tall Ferns have received a funding boost from Sparc and are still in with a chance of qualifying for next year's Olympics in London but Bates said the primary focus was on cricket - for now.
"It makes it difficult if I'm being the captain and I'm skiving off to the Olympics and things when there's jobs to be done here,'' she said. "So I guess that does make my commitment to cricket a little bit stronger than it has been.''
Bates conceded she is light on captaincy experience, although she led her school side and has shared the duties at domestic level for Otago alongside fellow White Fern Katey Martin this summer.
Bates, who once blasted an unbeaten 183 for Otago in a domestic one-dayer, will be charged with leading New Zealand in their quest to regain the Rose Bowl when Australia tour these shores next month. The old rivals will meet in five Twenty20s and three one-dayers.
"It's been 10 or 11 years [since we won the Rose Bowl], so that'll be my first challenge and we'll be doing our best to win that,'' she said.
England then tour New Zealand in February and Marchand the world Twenty20 tournament is in Sri Lanka in May.
The White Ferns, who lost the world Twenty20 final to Australia by three runs in 2010, are grouped with Sri Lanka, West Indies and another team who are yet to qualify.

- APNZ