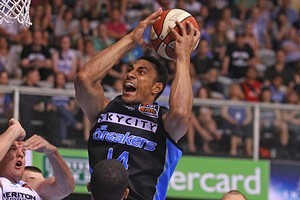 A few Breakers will have banged-up bodies after last night's (Thur) physical win over Gold Coast, but a rapid recovery is required as the team backs up against Adelaide on Sunday.
Last night's 106-85 win over the Blaze was a belligerent encounter punctuated by an all-in brawl, and now the Auckland club face a short turn-around and a flight to Adelaide to take on the last-place 36ers.
The Breakers, led by a dominant performance from Mika Vukona, pounded the boards against Gold Coast en-route to a fairly comfortable night in what was their third-straight win.
But the physicality of the encounter will have taken its toll, and coach Andrej Lemanis confirmed some of his players would be feeling worse for wear this weekend.
"Guys will be on their legs a bit but there's nothing we can do about that," he said. "We'll do some recovery in Adelaide to get us moving, then get ready to play Sunday.
"It's an afternoon game as well so a short turn-around, but it's not a big deal. I think it's a good challenge for us."
The Blaze provided ample challenge last night, especially during a first half in which they seemingly couldn't miss, but the Breakers stormed to the lead midway through the second quarter and didn't look back.
A key factor in the victory was a huge rebounding performance, directed capably by Vukona, who said he was in "attack mode" for the game.
The former Blaze forward set the tone for the night by pulling down five offensive boards in the first two minutes, finishing with nine of the Breakers' 20 rebounds on the offensive end. But he said a big night on the boards is a fickle thing to predict.
"You just go out there and try to get the ball," he said. "There's really no other explanation for it, it just happens.
"Sometimes you can try all you want one night and it doesn't come to you, but I guess the bounce of the ball came our way[against Gold Coast]."
The bounce of the ball and a second-half surge took the Breakers to their third win in a row against Gold Coast, a streak made more impressive considering the continued absence of CJ Bruton and a mini-slump from big man Gary Wilkinson.
The American is averaging 12.8 points and six rebounds from the Breakers' last five games but often looks laboured around the court, something Lemanis put down to a slight niggle.
"He's got a thing going on with his pubis [bone]," he said. "He's not 100 per cent. We nurse him through the week, he's got to have some recovery days."
Those recovery days are conspicuous by their absence this weekend, and it remains to be seen how Wilkinson will cope with two games in four days.
But Vukona is confident he and his teammates won't have a problem with the travel, possessing a been-there-done-that attitude when it comes to to closely-scheduled games on opposite sides of the Tasman.
"The guys are experienced enough to cope with everything like that," he said. "We've got the right people behind us."
Lemanis spelled out the goal for the Breakers' this weekend. "No team in the league this year has won more than three in a row, we've got a chance, we'll see what happens."
The Breakers beat the 36ers 99-90 at the North Shore Events Centre in week five, thanks to a stand-out performance from Wilkinson, so the South Australians will be seeking revenge on Sunday. The game tips-off at 6:30pm (NZT).
APNZ ks gf
-APNZ
- APNZ