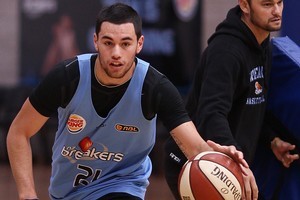 At the very time his basketball family has reached out for his help, young Josh Bloxham has needed the support of his NZ Breakers mates to get him through a real-life crisis of his own.
Two weeks ago, the reigning Australian National Basketball League champions wore black arm bands out of respect for Bloxham (21), who had just lost a dear family member - a great aunt. Within a few days, another great aunt had died and, for the quietly spoken boy so far from his Nelson home, having his team's 'aroha' has meant the world to him.
"It hasn't been the best of times for me but I guess they're now in a better place," reflects Bloxham of his deceased relatives.
"The guys have been great. The Breakers are a totally family-oriented club and really get behind, not just me, but anyone in the organisation who needs it. They're awesome to be around."
Bloxham has been able to return the love in a more tangible way. Over the past two summers, he's usually been warming a seat at the end of the bench for home games, occasionally given a run in the dying moments of blowout results and raising an affectionate cheer from his team-mates on the rare occasions he scores.
But with Henare and Penney departed, and Bruton and American Cedric Jackson struggling with injuries, coach Andrej Lemanis has begun calling Bloxham's number quite regularly, whether at practice or game time.
In five outings so far this season, he's logged 22 minutes 43 seconds, already more than he managed in seven games last year. Most significantly, Bloxham is entering games early,
"Over the last few weeks, I've had a lot more opportunities and taken them with open arms, to show the coach and other players I can do my job," says Bloxham.
Lemanis likes what he's seen so far from his apprentice.
"He's come in and played well, and shown those younger guys they'll get more and more opportunities if they continue to work hard."
As a point guard, a huge part of Bloxham's brief is to direct traffic and his biggest challenge has been to stamp some authority on players that have been heroes throughout his junior career.
"I've grown up watching them on TV and then they've been role models," he says. "I've been in a bit of awe of them for so long but now I feel like I'm out there competing with and against them, and earning their respect."