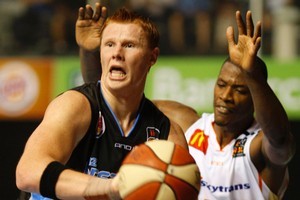 The bad blood between Melbourne and New Zealand Breakers has continued with American NBL import Gary Wilkinson accused of vilifying Tigers courtside announcer Wayne Peterson with gestures about his large birthmark.
Ahead of their clash in Auckland on Friday night, the Tigers put out a statement on behalf of Peterson, claiming Wilkinson twice made gestures about the announcer's prominent birthmark on his face at their match in Melbourne on Oct 22.
Following the game Peterson said he was told by the Breakers administration the player wasn't willing to apologise directly.
According to the club statement, he then refused a belated attempt at an apology as he felt "it was coerced by the NBL and not a genuine apology".
"Peterson feels he was vilified and humiliated by Wilkinson's actions and is disappointed the NBL decided to dismiss the matter and not take any action," the Tigers statement said.
"He has chosen to raise this matter in the public forum in a way of assisting any other people who are vilified and show they do not have to sit back and hide."
Breakers general manager Richard Clarke said his club had done all it could.
"We've apologised to Wayne and I know Gary has apologised to their club and offered to apologise personally to Wayne so I don't know what more we can do," Clarke said.
"I don't know how many time we're supposed to be able to try to apologise.... we don't know what else we can do."
NBL general manager Chuck Harmison said no official complaint was made within the correct time frame and no further sanctions were warranted.
The 2011-12 season got off on a testy note when long-time Tiger Daryl Corletto was cut to make room for NBA guard Patty Mills and joined the Breakers and was then embroiled in a war of words with Tigers coach Trevor Gleeson.
AAP mw/gjw/rj
-AAP