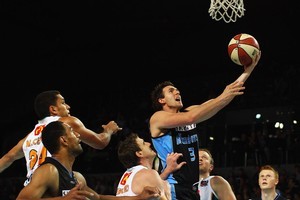 The fires have cooled a little but Daryl Corletto and his Breakers teammates are still intent on a spot of revenge against the Melbourne Tigers in Auckland tonight.
The veteran Australian sharpshooter has his own axe to grind after an acrimonious departure from his former club, while his fellow Breakers are still smarting over the nature of their defeat to the Tigers in Melbourne in round three.
That match featured a late technical foul call on Cedric Jackson that all-but handed the Tigers a 67-64 victory, and the defending champions a first loss this season.
Corletto believes his battle of words with Trevor Gleeson over the Tigers' coach's decision to cut him for Patty Mills may have had a negative impact on the Breakers in that first encounter.
"Last time there was a lot more emotion, heading back home in front of family and friends," Corletto said.
"And a few comments were made by [Gleeson] before we got back to Melbourne. It took a toll on myself and a few of the players. This time it's just another game and the boys are ready."
With Mills having departed already to take up a big money offer in China, Corletto certainly finds himself occupying the moral high ground. That will mean little, however, if the Breakers are again bested by the Tigers tonight.
Mills may be gone but with Ayinde Ubaka and former Taipan Ron Dorsey in their line-up the Tigers (6-4) are no pushover.
"They are still a quality team, but we only lost by three last time when we only scored 64 points," Corletto said.
"If we can keep teams under 70 or 80 we feel we have the firepower to outscore them - then it is just a matter of making shots at the other end."
His 19 points against the Crocodiles suggested Corletto is finding his way nicely at his new club. With CJ Bruton struggling mightily and now sidelined for two weeks with a torn patella, Corletto's acquisition appears an inspired move.
It very nearly didn't happen, with the Breakers trumping an offer from Cairns in the nick of time.
BREAKERS V TIGERS
North Shore Events Centre
7.30 Friday