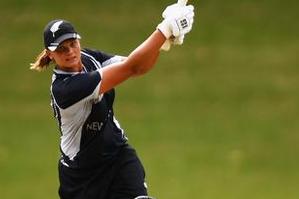 Six Beijing Olympians were today named in a young New Zealand women's basketball training squad.
Suzie Bates, Jillian Harmon, Kate McMeeken-Ruscoe, Angela Marino, Natalie Purcell and Lisa Wallbutton have been included in first-year coach Shawn Dennis' squad of 16 to prepare for the Oceania championship later this month.
The Tall Ferns squad, with an average age of 21, will assemble on August 23 for a week-long camp in Napier, before taking on the defending world champion Australia Opals in two games.
"The great thing about this team is its youth," Dennis said.
"You look at these Olympians and most of them are only 21, 22, 23, so they're just coming into their prime.
"Angela Marino has played at two Olympics and someone like Jillian Harmon has just come off a very successful college career, playing at a high level in the Pac-10 conference."
Unavailable due to retirement, injury or personal reasons were six Beijing Olympians, headed by captain Aneka Kerr.
Noni Wharemate, Charmian Purcell, Jess McCormack, Micaela Cocks and Clare Bodensteiner are also unavailable.
"I think, particularly with the retirement of Aneka Kerr, and Charmian Purcell and Noni Wharemate not being available either, it takes away a lot of experience," Dennis said.
"It's a new era dawning on the Tall Ferns. We really have to start looking forward to London 2012 now. It's going to be a young team and it's going to be enthusiastic.
"After the Olympics last year there was a bit of a downer, so this is a chance to freshen up and look forward."
Harmon graduated from Stanford University this year, where she averaged 9.6 points, 4.5 rebounds and 2.7 assists as the Cardinals reached the Final Four of the NCAA women's tournament for a second straight season.
Marino, Purcell and McMeeken-Ruscoe all competed in the Australia Women's National Basketball League last summer, while Wallbutton played in Belgium and more recently with Albury Wodonga in the South East Australia Basketball League.
Bates has recently returned to basketball, turning out for the Otago Gold Rush in the Women' Basketball Championship (WBC), after playing in the New Zealand women's cricket team at the ICC one-day and Twenty20 world cups.
Tall Ferns
Kim Barnes (UC-Irvine), Suzie Bates (Otago), Pip Connell (Harbour), Toni Edmondson (Albury Wodonga), Samara Gallaher (Otago), Natasha Hall (Harbour), Jillian Harmon (Stanford University), Zoe Kensington (Taranaki), Angela Marino (Adelaide Lightning), Kate McMeeken-Ruscoe (Townsville Fire), Natalie Moore (Taranaki), Natalie Purcell (Logan Thunder), Georgina Richards (Canterbury), Erin Rooney (Canterbury), Chelsea Terei (Harbour), Lisa Wallbutton (Albury Wodonga).
- NZPA