From resident ghosts to kegs hidden in mud, Danielle Wright finds intriguing history at our historic hotels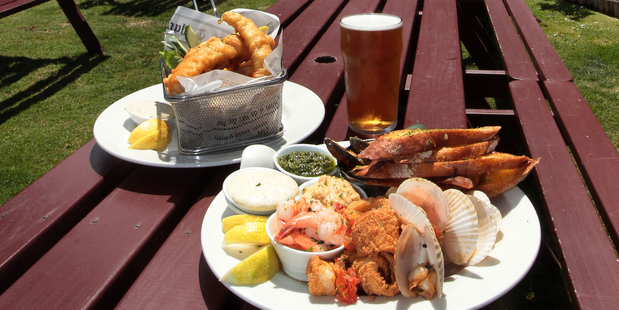 In the good old days, according to James McNeish in Tavern in the Town, a pub was "the meeting place of everyman: his community centre, his social home and his sporting club." How times have changed, or have they?
While some of our great pubs have sadly been turned into bars or chain beer cafes, we still found many vintage pubs proud of preserving their history and retaining their sense of community. Here are some to try out on a Sunday drive:
Est. 1827. 35 The Strand, Russell, Bay of Islands.
"For a country with hardly any history, our small town has quite a bit," says hotelier Anton Haagh of The Duke of Marlborough, on the Russell waterfront.
"The original owner started the pub as Johnny Johnstone's Grog Shop in 1827. His marketing nous was cheeky, but fantastic," says Anton. "He portrayed the business as opulent and wealthy when it was, in fact, a complete hellhole of a place."
One of the more infamous tales Anton tells involves a "girl war" on the now-sacred shores of Russell, outside the hotel.
"It was between two Maori women with the same American sailor boyfriend," says Anton. "One said the other had the skin of a kumara. The other retaliated by saying her opponent came from a family of slaves. The result was 130 people dead on the beach."
Fights are now, thankfully, not as common and The Duke of Marlborough has a calendar filled with live music, wine tastings, a local pie competition, a fishing competition off the beach and a beauty contest for "a real Northland lass".
"She needs to be able to back a trailer, fillet a fish, cast a rod to a target and drink a quart of Lion Red," says Anton, who admits you can't be in Northland and not have hard-case people.
"You can feel the ambience in a historic pub," says Anton. "It's not for everyone, but if you like things that are real, these are the places to be."
Est. 1851. Level 1/5 Queen St, Waiuku.
The Kentish established its reputation by advertising on the front page of the New Zealand Herald. It became the heart of the town and hosted many a travelling dignitary.
One of its current managers, Carl Douglas, tells me his great-great-great-great-grandfather John Hull helped build the hotel, which is full of history with almost 500 photographs adorning its walls.
It's still on the original pub licence, the 47th in New Zealand and the oldest to hold its licence continuously. The major threat to that title came last year when it closed briefly and was boarded up for a few months.
"The whole town kind of died when it closed," says Carl.
If you're staying for the night, though, be prepared for more than just alcoholic spirits.
When I ask Carl about the current resident ghost, he says: "Yep, that's Kate. I saw her once when I was really drunk."
So the story goes: she was caught cheating on her sailor husband and was killed in a room upstairs. Carl tells me a group of ghost chasers once came to track her down.
At one stage, the pub was also a haunt for gangs and an innocent bystander once took a bullet in the back through a wall. He lived, but there are now strict rules in the pub: No beanies, No patches, No hoodies, No sunglasses inside, No muddy boots and "most of all: No attitudes".
While enjoying a drink and the ambience, make sure you lose yourself in the memorabilia. Old newspapers found under the pub's wall during renovations have now been framed and make interesting reading. There are advertisements for fine old homesteads, gramophone recordings and one that even proposes to "permanently remove superfluous hairs without pain by radio", thanks to a Madame Amie of Queen St in Auckland.
Est. 1884. 37 Queen St, Northcote Point.
The first hotel on this site was built in the late 1850s by innovative Irishman Philip Callan, who also built the wharf at the end of the road to bring trade from the city. Back then, men would travel by horseback from farms in Albany, fetch supplies from the city and stay the night at The Northcote before returning the next day. The opening of the Harbour Bridge in 1959 put an end to this business and a fire destroyed it beyond repair.
A new hotel was built in 1884 and, apart from the addition of a new wing, the structure has remained almost unchanged. Current owners Billy and Kim Milne have been running the hotel for 25 years.
Since smoking was banned, it's become a family pub with good food a big selling point as well as plenty of room outside for kids to run around near Kim's beautiful roses, including one modelled on the colours in Princess Diana's wedding dress. Another is called Leaping Salmon - if you go there, you'll see why.
Locals have always been important here and tables dedicated to patrons, such as The President's Table in the Highland Bar, pay homage to some of the interesting people who have become regulars.
"It has a good feeling," says Kim's daughter Angela, who works at the tavern with sister Sarah. "The Northcote has made a few friends over the past 130 years. It's a special place."
Unlike other historic pubs, there are no resident ghosts here and Kim says: "If there are, they must be very happy with us because they've never said 'Boo'."
Est. 1903. 11 Matakana Valley Rd, Matakana.
Built from one kauri by the village post master and secretary of the dairy factory, The Matakana went on to become a boarding house for dairy workers and later a "house of questionable morals" in the 1960s.
An eccentric French chef took over the restaurant in the early 1980s and it's now owned by Duncan and Hannah Anderson.
"The word Matakana means 'shelter' in Maori," says Duncan. "We also see the pub as a shelter and place of rest, relaxation and fun. We invite visitors to Matakana to come and rest a while and soak up the atmosphere and history."
The pub boasts a husband creche: "Leave him for free, just pay for his drinks." There's a Shacklock wood-fired oven and reports of a ghost of a former guest. Walls display historic photos and above the bar is a sign: "If you're drinking to forget, please pay in advance."
Est 1857. Cnr Queen and York, Riverhead.
Once a pub frequented by gangs, The Riverhead is now fully restored and freshly painted with quaint flower boxes and a sprawling waterside deck. It's believed to be New Zealand's oldest riverside tavern and holds New Zealand's second-oldest liquor licence.
The Riverhead was a vital stop for early pioneering travellers, as well as a meeting place for gum diggers and traders. Travellers from central Auckland can now be delivered directly to the door by ferry or private boat.
Current owners Stephen and Paula Pepperell bought the hotel in 2010 after nine years' sailing around the world on a boat they built on their front lawn.
The pub holds many secrets. One back in 1865 is to do with local constables "staking out" the roadway to find empty kegs suspiciously travelling along the road. They discovered a wagon returning with full kegs. Someone at the hotel was avoiding paying liquor taxes by keeping them hidden in the mud.
Another story involves a fire at the pub and the article calls the patrons of the pub,"inmates".
Est 1864. 68 College Hill, Ponsonby.
Built when Ponsonby was called "Dedwood" and the whole area was sparsely populated, The Cavalier (formerly The Suffolk) watched the suburb thrive. The Suffolk was a big part of the community and had an active social club, as well as sponsoring the local rugby league team.
In fact, it's believed rugby league was born in The Suffolk Hotel when a meeting held there in 1910 developed the code, which resulted in the formation of the league. Today, "The Cav" is marketed as the best bar for catching the big match, but it also has spectacular views back to Auckland city from its impressive deck.
In the early days, entertainment was darts or pool with the only woman in the pub usually the barmaid. From July 1990, it became The Cavalier Tavern, named after a Belgian sandstone cavalier that sits on a keg above the bar.
Other features include Art Nouveau lead-lights from a bakery in Sydney and lights from an old picture theatre in England.
Puhoi Pub
Est. 1879. Ahiroa Road, Puhoi, telephone (09) 422 0812.
Over a glass of Puhoi Bohemian Draught, I meet Bob sitting under the sign: "Old Fart's Corner". He's been coming to the Puhoi Pub for 13 years and has a name plaque between the other regulars Ouzo and Ken. Ouzo's name is upside down, "because he's Australian".
Ken's eyesight is playing up and Ouzo had a serious accident on a motorised bar stool recently - it sounds like a joke until you listen to the barmen visibly upset when talking about their "very good friend" in hospital. Bob has sat on his own for a couple of weeks.
"It's normally the three of us sitting here like a group of chooks," says Bob, who has been Santa at the pub's Christmas party for 12 years. He has arrived on a sidecar attached to a Harley, a fire engine and a trailer towed by a lawn mower. This year, Santa will arrive on the school bus.
"I appear at the pub most days and watch the world go by," says Bob. "I get to speak to people from all over the world - America, Finland, Sweden, Denmark. It's quite interesting really, you hear a lot of stories."
In the early days, the tiny town of Puhoi had three pubs. The first, run by an Irishman, was called the "Baby Saloon" and was just a shanty pub. The Puhoi is the only one to have remained.
Not many stories are forthcoming about the patrons and when questioned, you get the feeling bar staff are good at keeping a secret, even though a sign on the piano says: "Today is the yesterday you will be embarrassed about tomorrow."
One barman does tell me about the colourful late owner Rodney Seymour who he says, "probably invented the Fawlty Towers persona - he was rude, obnoxious and if he didn't like you he'd throw your change at you."
By all accounts Rod was highly regarded, albeit living by his own rules, and after clocking up 50 convictions he transferred the licence into his wife's name and told people he worked for her as a barman. The pub is still owned by the Seymour family.