Even sick bags carry brand messages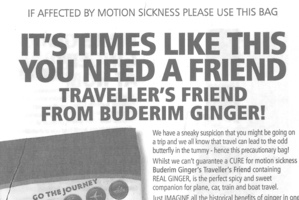 If advertising makes you sick, brace yourself: on some local flights, the motion-sickness bags now feature ads.
The paper bags on domestic Jetstar flights feature an ad for a ginger-based cordial drink.
The promotion for Australian company Buderim Ginger Refresher and Chewy Ginger Treats coos: "It's times like this you need a friend."
Jetstar said the bags were a first for the airline. "Buderim Ginger has been the only sponsor to date, with sponsored bags distributed across the Jetstar Group network," a Jetstar spokesman said.
Mark Pickering, founder of marketing agency Fluxx, said advertisers were always looking for unusual or innovative places to promote their products. One recent campaign was for boating safety, where every item needed in a boatie's day out was targeted to carry advertising.
Pickering said Maritime New Zealand wanted boaties to use lifejackets but faced overwhelming apathy. The "Don't be a clown" campaign made use of bait bags, petrol pump handles, removable magnetic signage on ice bins and magnetic signs on boat ramps.
"They were basically targeting every moment that boatie was going to do something before he went out and hit the water." Pickering said lifejacket use had risen.
Overseas, advertising can even be found on condoms. Various business magazines have suggested other surfaces for ad campaigns including:
• Door-hangers;
• Hand stamps at events;
• Swimming pool floors;
• Homeless people's blankets.