Company wants to prove some of its cars are more affordable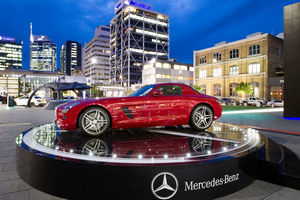 There are pop-up restaurants, pop-up shops and now Mercedes-Benz New Zealand has a pop-up showroom just as the company launches its CLA sedan.
Called Take the Wheel, the mini dealership will tour New Zealand over the next few weeks, setting up in Auckland's CBD, Christchurch, Wellington and near Takapuna beach.
The showroom lets people take a test drive in an A-Class hatchback or the newly released CLA, which the company is calling a four-door coupe, while for show only will be an A 45 AMG and the stunning SLS gull-wing sports car.
Mercedes-Benz NZ general manager Ben Giffin said the reason for the Take the Wheel events was to make the vehicles accessible for people and to show that vehicles such as the A-Class (priced from $46,900) and the CLA-Class (from $65,900) were now "more affordable".
"The CLA sits with the likes of the BMW 3 Series and Audi A4," said Giffin.
Members of the public can take the A-Class or CLA for a spin with a driving instructor at Britomart today, then at Christchurch's ReSTART Mall from October 3-5, Wellington's Queen's Wharf from October 17-19 and at The Commons, Takapuna, from October 25-28.
Mercedes-Benz NZ launched the base model CLA 200 this week with the 45 AMG ($107,900) available next month and the 250 Sport AMG version ($77,900) for sale in February.
Sitting on 18in alloys, the CLA 200 ($65,900) is powered by a 1.6-litre direct injection turbo engine (115kW, 250Nm) and paired with a seven-speed DCT automatic gearbox. It has claimed fuel efficiency of 5.7L /100km for combined driving.
It's also chocka with Mercedes' safety features, such as attention assist (which detects when a driver gets drowsy), blind spot assist, reversing camera, adaptive brake (sensors predict emergency stops) and active bonnet (protects pedestrians).
The CLA-Class sits between Mercedes-Benz' B and C Classes.