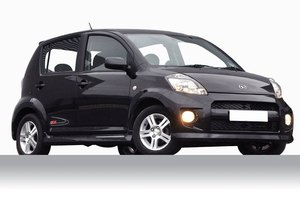 It's goodbye to a runabout favoured by many a New Zealand retiree with the decision this week to stop sales of Daihatsu vehicles here.
The Sirion hatchback's price of $18,990 attracted buyers but its importer, Toyota NZ, has decided to discontinue sales of new Daihatsus by the end of the year.
Toyota NZ general manager of sales and operations, Steve Pragnell, said the company regretfully is unable to secure Daihatsu products that comply with future regulatory standards for New Zealand, but the decision will not disadvantage customers who already own Daihatsus.
"We want to assure customers that we will honour our commitment to Daihatsu owners in New Zealand and they need not worry about ongoing support. Toyota dealers will continue to supply parts and provide comprehensive service support for those vehicles," said Pragnell.
Last year, 322 Daihatsu models were sold in NZ, and this year 90 have been driven off car yards.
Toyota NZ will write to Daihatsu owners advising them of the decision and their commitment to ongoing parts and service support.