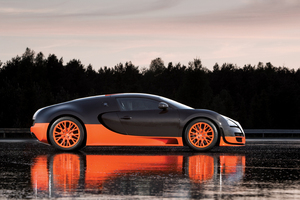 Want a Porsche Panamera, Range Rover or BMW 650i but really feel they are over-priced?
Well, have we got a deal for you. Exact replicas of any of these cars start from as little as US$20,000 ($23,850) and are powered by a Toyota V6 engine on the low end of the cost spectrum, and a BMW V12 at the high end. That high end is still only US$38,000.
If you want to get really silly with your money you can splash out on the Bugatti Veyron clone (pictured), complete with a custom-built W16 engine for only US$49,000.
Sound too good to be true?
That's because it is. A Panama-based company called either Super Replicas or Top Gear Carbon Copies claims to offer perfect replicas through websites and YouTube videos.
Things get weird in the videos which claim some high-profile people are involved with the company, including Top Gear US presenter Tanner Foust, who is supposedly the company's boss.
Of course, none of this is true and an investigation by US website Jalopnik.com has uncovered all sorts of ridiculous claims. And, no, the Top Gear franchise has nothing
to do with it. The BBC is ''investigating the matter''.
Mis fuelled No, mis reported
Ever put the wrong fuel in your car? Embarrassing, isn't it? How about being blamed for doing that to President Barack Obama's limo?
That is exactly the situation the US Secret Service found themselves in during the prelude to a presidential visit to Israel last week, when an Israeli television station reported the presidential limo, otherwise known as The Beast had to be quietly whisked away on the back of a flatbed truck following the mis-fuelling error while a replacement was flown in.
An Israeli TV station excitedly reported the fault was due to "the Americans filling it up with diesel, rather than petrol".
The only problem with this is The Beast is actually diesel-powered. Though it wears a Cadillac badge it is actually a bespoke vehicle based on the GMC TopKick/Chevrolet Kodiak truck. Weighing around 9 tonnes and powered by GM's 6.6-litre Duramax diesel V8 (most likely, the actual specifications are classified), The Beast is four-wheel drive and heavily armoured.
The limo is said to have broken down before President Obama even made it in to the country and reports are mixed as to the actual problem, with the Secret Service not commenting on the specific cause of the "mechanical problem", except to say the "the appropriate gas was put in the car".
Armoured SUV maker does it again
Of course it had to happen insane Russian ''car'' maker Dartz Motorz decided that the thoroughly ridiculous Mercedes 6x6 G63 AMG wasn't quite ridiculous enough, so at
the ''special request'' of a customer, made one of the 6-wheelers even more over-the-top.
The 6x6 G63 gets extended by a further 30cm to house the tasteless opulence jammed in, including coach doors in the rear, a ''yacht floor'', air conditioning that runs on
its own power source, Asanti 24in Gold Bullion wheels and a water dispenser with Russian diamonds.
There is also a ''portable smoking room'' complete with golden shishas (hookahs) and cigars, as well as a ''portable dining room'' and a Bang and Olufsen in-car Smart Cinema, complete with 3D TV. All of this was announced in a press release packed full of
manglings of the English language.
Hipster band hates classic Saabs
Car-themed music videos are always cool. Remember OK Go's blatant but clever promo piece for the Chevy Sonic (Holden Barina, in these parts) for their song Needing/Getting or Audioslave's brilliant Vanishing Point-themed video for Show Me How to Live?
The latest music video car theme comes from New York band Vampire Weekend, for Diane Young. Saab fans may want to stop reading now, because the video features two Saab 900s one hatch, one convertible in arty, slow-motion flames.
To make matters even worse for Saabsters, the cars were in good, running condition and much-loved by their previous owners who had no idea of the fiery death their beloved
cars would meet. It is sometimes shocking what we will tolerate in the name of ''art''. And it's not even a very good song.
We are the world
*The enterprising nature of Russians seems to know no bounds, especially when it comes
to catering to the mega-rich who just don't care about the rules.
Police in Moscow have been instructed to inspect ambulances after discovering a thriving trade in VIP ''ambulance taxis'' that externally appear to be normal ambulances but are fitted out like luxury limousines inside in order to transport the wealthy customers
through heavy traffic with lights and sirens blazing.
*There is no doubt that driving while tired is a potential killer, but here's a shot of caffeine that just may prove lethal too. An American company has just launched a blend of coffee which it claims to have 200 per cent more caffeine than your standard shot. Appropriately
named ''Death Wish'', the packaging says ''Death Wish Coffee is the most highly caffeinated premium dark roast organic coffee in the world. This is Extreme Coffee, not for the weak. Consider yourself warned.''
*An American cop was more than a little surprised when he checked the boot of a suspicious car, only to have a live deer fall out and stagger off into the nearby woods. The driver told officer David Miller that he accidentally hit the deer on the road and, thinking he had killed it, was taking it home for his family to eat. Except it turned out that it wasn't dead, only stunned and was very keen to get out of the car.
Number Crunching
11 PER CENT of the new-car market in 2002 were SUVs.
24 PER CENT of the new-car market in 2012 were SUVs.
19 PER CENT of the new-car market in 2012 were large cars.
5 PER CENT of the new-car market in 2002 were large cars.