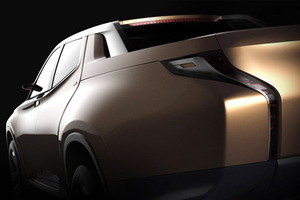 Had to happen sooner or later - Mitsubishi's pitching the advantages of a hybrid ute with its Concept GR-HEV, to be unveiled at next month's Geneva motor show. Already poised to introduce its Outlander plug-in to New Zealand, Mitsubishi says it's applying hybrid technology to a one-tonne ute for the first time.
The GR-HEV's complex powertrain consists of a diesel engine and electric motors. The concept has full-time four-wheel drive and a development of Mitsubishi's Super All-Wheel Control system that governs stability and brake force. It also has an active centre differential from the Lancer Evolution.

Turn left at Austria
Turn left at Austria A 67-year-old woman who set out to collect a friend from a rail station in Brussels, Belgium, 60km from her home, wound up three countries away, in Zagreb, Croatia.
Apparently, her GPS had broken and she had become "distracted" - as you do with all those darned border signs.

Making business case for new Corvette
American car enthusiast Roy El-Rayes really wanted a C6 Corvette Z06; like, really wanted
one.
Although his wife had already agreed that a Corvette would make a suitable replacement for their Jeep, he soon found that a new 'Vette was a little over budget.
So El-Rayes did what any good businessman would do: he put together a PowerPoint
presentation and made a sales pitch to his wife, one that included sound fiscal reasoning,
pledges of personal sacrifice and the clincher, the strategic placement of cute kitten photos.
The pitch worked and the Jeep is now history.

Holy copyright infringement, Batman
A US judge has ruled that Batmobile replicas built by Gotham Garage infringe copyrights and trademarks held by Warner Bros.
Warners claimed the entire Batmobile was protected including, oddly, its doors, seats and tyres.
But Gotham argued that US copyright law excludes ''useful articles''. ''Ford, Toyota, Ferrari and Honda would start publishing comic books so that they could protect what, up until now, was unprotectable,'' lawyers argued.
But the judge ruled that the Batmobile is a ''character'' and exists in both two- and three-
dimensional forms. Its existence in three-dimensional form was the consequence of the Batmobile's portrayal in the 1989 film and 1966 television series.
However, he ruled that the company had waited until the design patents on the cars expired, and therefore didn't think copyright law applied.

Picture this in your rearview mirror
So have you ever seen anything this, um ... ugly? It's the nose of the latest Toyota Tundra, a full-size ute for the American market.
For some reason, the Americans like the noses of their beloved ''pickups'' to be big, bold
and way out there. It may be that buyers will actually love the look of the significantly revised 2014 model, just unveiled.
The black grille frame is an option, the regular one is all chrome.

From whoa to much faster go, go, go
Now that the Toyota 86 and Subaru BRZ sports coupes are realities, some motoring analysts have become fascinated by the behind-scenes struggle within the large, conservative corporate structures to get the joint project off of the ground.
How, for example, did Toyota 86 chief engineer Tetsuya Tada become involved in the early days? Did he have to step over dead bodies, or engage in some heavy-duty water cooler politics?
Apparently not. Writing on Toyota UK's blog, he says, ''I had been working in the minivan
department engineering new product, when I was called to a meeting. `Forget about minivans,' they said, `you are now working on the sports-car project'.''
Good Oil suspects he didn't beg to stay on with the vans.

We are the world
*The Kerry county council in Ireland voted to let some people drive drunk, reasoning that in isolated regions some seniors lived alone and needed the camaraderie of a pub.
*The American Transportation Security Administration reports that in just one week last month baggage searches at airports netted 33 pistols, eight stun guns and a serrated wire garrote. Finds from last year included a live 40mm grenade.
*A man in Tennessee, USA, fired his pistol at a driver in front of him to scare her into moving faster. He said he had queued for five hours to buy a sale-price stereo but missed out and was on his way to another store offering the same deal.
*Julie Griffiths, 43, of Newcastle, England, received her first Anti-Social Behaviour Order in 1999 for shouting at her husband, Norman. After complaints from neighbours, Mrs Griffiths was fined $800 in 2010 and vowed to be quieter. But last year monitoring equipment caught her roaring at Norman 47 times in three months. The magistrate issued a new five-year ASBO.

Number Crunching
800 Great Walls, the Chinese old hand, registered here last year
15,592 New utes registered in NZ last year
4 Foton Tunlands, the new Chinese ute, registered in NZ 2012.
2 MILLION Utes sold in US each year.