Grant Edwards takes a first look at Holden's SS-V, which will be sold in the US as the Chev SSCover Story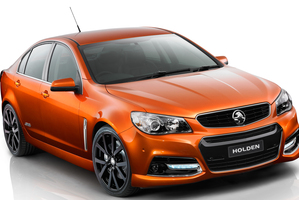 Sport luxury or luxury sport - which style floats your boat? It was a well-worn catchphrase by the end of Holden's new VF Commodore launch.
Last weekend the Calais was revealed across the Ditch, and Holden has now unveiled the SS derivative to coincide with its United States launch at the Daytona 500 where it will be rebadged as a Chevrolet SS Sports Sedan.
Like the Calais, the SS has gone upmarket inside and out. But walking a similar line to the HSV Senator, this sporting derivative doesn't have in-your-face styling. Instead it's almost regal athleticism.
Distinguishing features over the Calais on the outside are black aprons front and back, along with different 20-inch alloys.
The launch car also had an understated small rear-lip spoiler. Holden says there will be an option for a larger wing.
"We've taken a great existing form and brought it up to another level," chief designer Richard Ferlazzo said.
"The surfacing is more flamboyant and contemporary, way more sophisticated. We've succeeded in putting in more action and detail.
"One of our main goals was to improve aerodynamic performance and as a result many visual elements are much bolder. There's also more embellishment in terms of chrome highlights. Headlamp and tail lamp treatments are layered, complex and intricately detailed."
Discreet styling flows inside. Large colour blocks have been ousted. Soft leather and suede are now the materials of choice throughout the cabin. Carbon fibre-look touches, red stitching, SS lettering and a light grey colour scheme create a classy ambience. There is also an option for a predominantly black interior with grey stitching.
Chrome pieces are also used throughout, with the smaller, brighter inserts designed to catch more light.
Best of all is the chunky, leather-wrapped, flat-bottom, sports steering wheel which feels wonderful in your hands.
It's now armed with cruise-control buttons - rather than being mounted on a stalk.
Taking pride of place inside is a 20cm touch-screen colour display for the sat-nav, stereo and climate-controlled aircon.
Chief designer for colour and trim Sharon Gauci said the lighter cabin emphasised the Commodore's new sophistication - with the bling primarily on the outside. "It's not over the top. We really wanted the emphasis on sports luxury," she said. "The new VF interior environment is designed to go above and beyond traditional customer expectations.
"With VF, we aimed to create the ultimate interior for the price point with a harmonious and cohesive approach to our colour and trim strategy."
Prices and drivetrain details will be revealed closer to launch in May.

Commodore VF - what we know
Holden and parent company General Motors are understandably playing their cards fairly
close to the corporate chest as they drip-feed information to car fans. They split up the launch of the Calais and the Chevrolet SS so both the Americans and Aussies had
something for show and tell as your paper was being delivered overnight, General Motors was taking the covers off its Chevrolet SS in the US.
While powertrain and pricing options are still off the table, more will be revealed in coming weeks. Holden was very keen to demonstrate the Calais high-tech trickery, and judging by the interior of the SSV from our cunningly acquired photos, it looks like the
Commodore shares a host of these high-end features. Here's what we know:

Reverse traffic alert which warns of passing vehicles when reversing out of spaces.
Blind spot alert to warn of obscured vehicles when changing lanes.
Auto-park assist which effectively parks the car automatically, the driver just operating the pedals. It works for parallel or 90-degree parking.
Keyless entry with push-button start.
Electric park brake, which frees up space in the centre console.
The electric window controls have been moved from the centre console to the doors.
Boot opening button is also now on the driver's door, rather than the glovebox.

Cruise control buttons are mounted on the steering wheel, rather than the stalk.
Slick 20cm colour touch-screen with "Pandora" (digital radio) and "Stitcher" (music) applications.