Enthusiasts won't be disappointed in Mercedes' latest effort.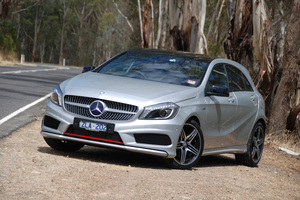 The return of the A-class is a trumpet-flourishing moment for Mercedes, which temporarily had only the B-class to pitch against BMW's 1 Series and Audi's A1. This headlining 250 Sport will take the biggest slice of sales when A-class launches in March, followed by the hard-core A45 AMG in September.
What's new
A new platform and conventional hatch lines for A-class, with a handsome and characterful design.
This German-built car gets a 155kW/350Nm 2.0-litre direct-injection four-cylinder turbo engine with a seven-speed auto. It'll do zero to 100km/h in 6.6 seconds, and drink 6.6l/100km when driven frugally; our spirited approach returned 9.7l/100km. The sports suspension gets three degrees of front camber and a beefier anti-roll bar.
The sports exhaust deletes the centre silencer, there's a more direct steering ratio, improved brake cooling and sports-tuned stability control, the whole package tested by at least 10,000km of high-speed work on the Nordschliefe track at Germany's Nurburgring.
The company line
This A-class has NZ Merc execs feeling bullish. "This year our competitors need bigger rear-view mirrors." Is BMW's rear-drive format its trump card? No, says Mercedes, as rear drive in a car this size involves packaging disadvantages that don't offset a dynamic edge few owners will tap.
The old high-riding, A-class "sandwich" platform has been retained for future fuel cell and electric cars. This new model sticks with conventional power plants; given the diesel's 4.7l/100km thirst, a hybrid delivers no advantages.
The 250 Sport and A45 AMG will sell in auto only.
What we say
AMG has breathed on the A250 motor, with an overboost that adds 10 more kilowatts after 30 seconds of hard acceleration over 4000rpm, and an "eco, manual, sport" button. Press sport to alter the gearing and sharpen steering and soundtrack.
There's generous specification for A-class. Even the $46,900 starter-car includes a seven-speed paddle-shift transmission, 17-inch wheels, nine airbags, a reversing camera and much, much more.
The A250 Sport adds 18-inch alloys, a twin exhaust, Bi-xenon headlamps, a very effective "diamond" grille, a panoramic sunroof, privacy glass, sports-focused tweaks to the cabin and red touches inside and out that culminate in red seatbelts, all for $64,900 - similar to a VW Golf GTI specced to match.
On the road
Merc has hit the right suspension compromise, sporting firm but not harsh, and sufficiently confident around corners that only over-vigorous drivers will bemoan the front-drive bias.
Meanwhile the broad 1200-4000rpm torque spread means you can select one gear for the twisties; we happily stuck to third for a notably narrow tangle of tarmac twisting through the trees in a profusion of 45 and 35km/h corners.
Why you'll buy one?
The A250 Sport is uber-handsome and has the specification and performance to justify the price.
Why you won't?
You'll never consider front drive.