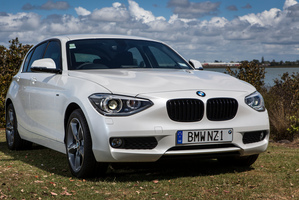 Having shed its 80s yuppie cliche, Beamer has a lot to celebrate
When BMW New Zealand set up shop in 1983, it was a very different world. The chemically fortified comedy hair and the, er, stylish clothes didn't exactly help the situation. At the top of the 80s heap, at least until the brutal takedown of '87, was the yuppie, rabid social climbers with empires built on complicated-sounding things on bits of paper that in many cases were worth about as much the paper they were written on. And the yuppies, resplendent in their white pants and pastel Tubbs shirts, really, really liked BMWs.
The very first BMW to be officially imported into New Zealand was not by the company itself, but via Ross Jensen's Remuera automotive company in 1967 - a little 1602. It started to build a reputation around motorsport with some of the trickier models, building a following but still very niche, until Bayerische Motoren Werke AG came here with far loftier ambitions.
BMW timed its '83 arrival extremely well and quite badly, depending how you look at it. The brand loved the 1980s in New Zealand - it was new, shiny and had features that the Falcons, Commodores and their British Leyland forebears didn't, and pub legend said they cost unheard of sums to fix, service or buy and they mainly became the domain of the dude in white shoes with a sweater draped over his shoulders.
And then 1987 happened. There were some great car deals to be had for those who escaped unscathed, and BMW quickly shed its yuppie stereotyping and became a solid contributor to the Kiwi car sales ledger.
The brand globally topped 1.5 million vehicles - a record by around 200,000 - and had a huge year in this country last year. It become the top premium brand as long-serving BMW managing director Mark Gilbert retired.
To celebrate its successes, and to punctuate its third decade in this country in full force, a handful of specced-up models have been created wearing Edition 30 badging. There's the 116i, 320i or 320d being offered with hugely-inflated specs with only a slight price increase.
For a hundred bucks, there's $11,200 worth of goodies loaded, including head-up display (where speed and other information is projected in front of the windscreen), extended Bluetooth system with audio streaming as well as hands free, higher-spec navigation, bi-xenon headlights, sports seats, a spoiler and some fancy wheels.
The 3 Series' birthday treatment includes a tasteful black bootlip spoiler, 18-inch rims, rear-view camera and other similar upgrades to the 1 Series, over $12,000 worth of bits for around a grand extra. The petrol-powered 320i and impressively frugal 320d are both stickered at $75,900.
Both 3 and 1 Series consistently pick up awards, and with very good reason. The standard spec and control of driving dynamics that they offer is at the cutting edge of passenger car technology.
After driving the 1 and 3 over the summer, they were a nice reminder of just how far these cars have come. The technical advances made in recent years, especially around materials, weight and refinement, mean that they're always an engaging drive, the 3 Series allowing sport modes to be selected that free up traction control for a more spirited drive or can be tapped back to EfficientDynamics eco mode to save some fluffy bunnies.
The power and torque delivery from these engines put them in the same ballpark as decent six-pots of five years ago, and with a relatively light thirst. Add thousands of bucks worth of cosmetic, tech and safety upgrades for not much over the base model prices essentially means top-spec options for low-spec price.
At 30, BMW New Zealand's beancounters already seem to be suffering some sort of mid-life crisis. The best advice is to do what we all do when someone "celebrates" a milestone like this, paint on a grin and wish them a Happy Birthday, and earnestly reassure them that life begins at 30, congratulations.