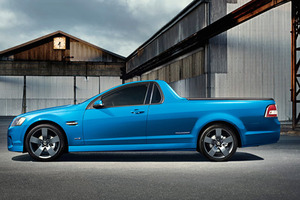 Only the strong Aussie dollar is stopping Holden from a lucrative contract supplying its ute to America badged as a Chevy El Camino.
General Motors international operations boss Tim Lee says: "You tell me about what the Aussie dollar is going to do over the next 12 to 24 months and I'll tell you the export potential of cars like that.
"You can't make a business case of something like that."
But what about the Chevy SS performance sedan that America is taking from Holden? Lee says the SS "will have to take a very premium price position" but the El Camino, which has traditionally been a blue-collar vehicle, wouldn't be able to sustain a premium price.

The moral of the story? Hide your keys
After an argument with his adoptive parents that resulted in them taking away his mobile phone, an angry 13-year-old boy ran away from his home in Italy and headed for Poland
to meet his biological sister.
But instead of taking the train or hitching a ride, the teen grabbed the keys to his father's Mercedes-Benz for the impromptu road trip.
With a few euros in his wallet and a passport in his pocket, the youngster managed to put more than 800km between himself and his parents, crossing two international borders, before German police nabbed him just short of the Polish border.
It wasn't bad driving that alerted authorities to his location the vehicle was tracked electronically.
Social workers are increasing checks on the family and his parents are hiding the keys.

We are the world
Mauricio Fierro said his car was stolen when he went into a pharmacy in Sao Paulo, Brazil.
But when filing a report at the police station he ran into the pharmacy owner making his own report, that Fierro was robbing him at the moment the car was taken. Video revealed that while Fierro was standing outside the pharmacy wondering where the car was, a man ran by and grabbed the stolen cash. Fierro later admitted that he had also stolen the car that he reported as stolen.
A handyman in Venezuela, where petrol is not exactly expensive, decided that the best
price was to pay nothing. So he converted his Beetle to run on batteries, which he stacked in the engine bay and boot. The brakes failed on a test run and the electric Beetle slammed into a power pole. The impact caused a transformer on the pole to fall on
the VW's roof, flattening the car. A shaken, bruised and wiser owner said it was probably a warning from God not to mess about with electricity.

No generation gaps for Porsche lookalike
It looks just like a Porsche and it sort-of is but it isn't.
This lookalike was built by Los Angeles firm Singer Vehicle Design, based on a 964 donor car.
The idea was to recreate a Porsche without the size, weight and complexity of new factory
models.
Singer set out to take the best bits from every generation of the 911 and combine them into one vehicle. Those who have driven this 260kW Cosworth-powered coupe
have been full of praise. Singer makes models to order from a long list of possible
combos.

Volkswagen, BMW to be big movers
Volkswagen and BMW are the most likely brands to grow their market share over the next five years, a survey of top global automotive executives has found.
Tax advisory firm KPMG says of more than 200 executives, 81 per cent expected to see Volkswagen make gains, compared with 70 per cent last year. And 70 per cent thought BMW will increase its share, a jump of 7 per cent.
Meanwhile, Hyundai has seen its perceived market share slacken for the third year in a row. And although Toyota slipped in the rankings, it enjoyed the largest increase of any company in the latest survey, jumping to 68 per cent from 44 per cent last year.

Taking a Liberty with wrapping
What's this heavily disguised vehicle? Take a peek under all that camo and it's the next Jeep Cherokee, or Liberty as it's known in the US.
All these disguised prototype cars look the same to Good Oil, but experts who can interpret the bulges and depressions say to expect a smaller version of the good-looking Grand Cherokee, but with a bit more body sculpting.
Whew, the outgoing angular Cherokee was pig ugly, so that's a good start. Among new design features, expect completely revised headlamps that sweep well into the front wings.
It's expected to appear, free of camo, at the New York Auto Show which opens March 29.
The big question, though, is this: it rides on a larger version of the Dodge Dart platform, not an SUV-specific one, so will it be any good off-road?
Number Crunching
137 THOUSAND New cars made around the world each day.
2 THOUSAND Light and medium commercial vehicles built each day.
55 THOUSAND New skateboards made every day.
2 BILLION The approximate number of vehicles in the world.