Tom Bawden looks at the worst vehicle figures since 1993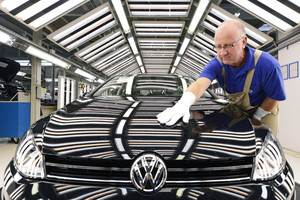 European car sales plunged to a 19-year low in 2012 as the debt crisis took a heavy toll on vehicle demand.
The number of cars sold in the EU fell by 8.2 per cent to 12.05 million vehicles last year, the lowest since 1993.
Over-indebted banks refused to lend to cash-strapped consumers as severe austerity measures pushed joblessness to a record high of 12 per cent.
Sales in December were hit hard, falling by 16.3 per cent to 799,407 vehicles, said the ACEA European automotive association.
For the year, the UK fared better, with sales rising 5.3 per cent. Sales in Germany declined 2.9 per cent, while Spain dived 13.4 per cent, France 13.9 per cent and Italy 19.9 per cent.
Although the UK market is holding up, British manufacturers are feeling the squeeze in Europe, which accounts for about 40 per cent of sales. Last week, Honda said it would cut 800 jobs at its Swindon plant, but Jaguar Land Rover said it would create 800 jobs in Sollihull.

-Independent