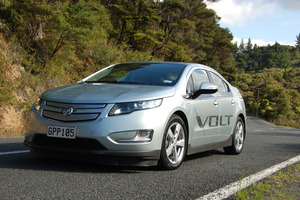 How green is the US ambassador to Australia's new electric car? So green it was plugged into a garden bed.
Ambassador Jeffrey Bleich took receipt of Australia's first electric car, the American-made Holden Volt, at a ceremony at the US Embassy in Canberra last week. The silver car will join the embassy's fleet.
The ambassador, who doesn't drive in Canberra but is chauffeured around in an armoured BMW, nicknamed the electric car Elvis.
"I thought, it's cool and even though it's a fun, sexy car there's a niceness to it," Mr Bleich said.
Unlike the king of rock and roll, the car is silent.
GM Holden chairman Mike Devereux handed over the keys to Mr Bleich, who took it for a brief spin on the driveway outside his official residence, while staff watched anxiously.
A minder had to unplug the car from its electric charger cord which led into a garden bed and didn't actually connect to a power source because no outdoor sockets were available.
Mr Bleich waxed lyrical about the car's fuel efficiency and how much fun it was to drive: "You put your foot on the gas and it feels like you're taking off in an aeroplane. It's joy without sin."
The model is manufactured in Detroit and sold as a Chevrolet. It runs on 200kg of batteries that can power the car for 87 kilometres.
The electricity cost of running the car fully charged is $2.50 and it takes six to 10 hours to recharge the batteries. There's a petrol engine back-up with the capability of travelling 600km.
Mr Bleich said President Barack Obama was committed to sustainability and wanted to put a million electric cars on US roads in his second term of in office.
Mr Devereux said the Volt was not about sales targets but showing what "General Motors can do when it really puts its mind to it".
He said at this point there were no plans to produce the cars in Australia.
In November 40 Volts were sold in Australia, where it retails for $59,000. In New Zealand, the Volt sells for $85,000.
-AAP