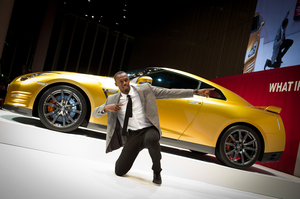 Aone-off 'Bolt Gold' Nissan GT-R has sold to an Aussie in a worldwide online charity auction.
Proceeds from the auction, which took place on eBay, will be donated to the Usain Bolt Foundation, which helps create education opportunities for children in the sprinter's home country of Jamaica. Competition for the GT-R was expectedly fierce, with the car raising an impressive US$187,100 ($221,100), with sales of Bolt merchandise and Nissan motorsport gear like helmets and race suits raising thousands more.
The new owner said: "The Nissan GT-R just gets better and better and more refined each year, and the fact that this gold GT-R also celebrates the incredible achievements of the great Usain Bolt makes it something very special indeed."
The buyer wanted to remain anonymous. It will, however, be difficult to maintain this low-key approach when the one of a kind car arrives next year.