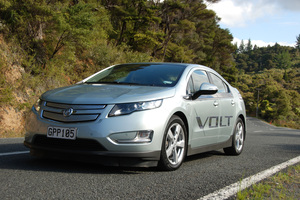 General Motors' future green-car efforts will focus on plug-in hybrids and electric vehicles rather than conventional hybrid powertrains, product chief Mary Barra says.
Barra told Automotive News that GM has narrowed its future development emphasis on plug-ins in an effort to defend its leadership position solidified with the Chevrolet Volt plug-in hybrid, launched in 2010. The Volt has just been launched under the Holden badge in New Zealand.
GM will unveil an electric Spark minicar this month at the Los Angeles auto show.
"A major focus for GM's electrification strategy will center on the plug," said Barra. She added that plug-ins offer "a unique opportunity to change the way people commute," and that Volt owners "love the ability to refuel at home".
Traditional hybrid technology "is important, of course", Barra said. "But we think plug-in technology will play an increasingly important role over the years to come."
The strategy leaves GM with a heavy focus on both ends of the electrification spectrum: pure EVs at one end and plug-in hybrids, along with its eAssist mild-hybrid technology, which uses a much smaller battery and small electric motor to assist the petrol engine under certain conditions, at the other end.
By 2017, GM expects to sell 500,000 vehicles a year globally with some form of electrification, from mild hybrids to pure electrics, Barra said.
That would equal about 6 per cent of thenine million vehicles GM sold globally i.
GM's sharper focus on EVs and plug-in hybrids comes despite tepid sales of EVs such as the Nissan Leaf and Mitsubishi i.