Clarke Gayford escapes the usual cliches of Queensland's Gold Coast, driving a convertible to the hinterland for some speed cheese tasting and a bit of a flutter.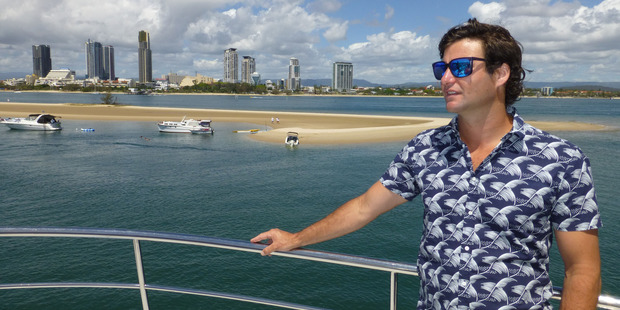 My travelling companion Aroha Harawira and I stood in the pick-up area of the Gold Coast airport, both trying to play it cool, like this was everyday behaviour, as our driver Mal in his immaculate '65 Cadillac DeVille convertible glided in to pick us up. I was supposed to be here with my girlfriend Shavaughn [Ruakere] but she was double-booked, so the next-best thing was to get Aroha to come with me.
Jealous travellers looked on as I noted to myself that it was lucky my moisturiser had some SPF in it for all the open-top sun I was about to get.
"Play it cool Gayford, play it cool," I thought. "Wait, hang on, whose bag is that you've loaded into the boot Mal? - Um, nope that's not mine, I thought you grabbed my bag, Aroha? That's not my bag, that's not my bag, whose bag is that?"
Suddenly any false veneer of cool had instantly evaporated in a flurry of panic, as I realised a foreign bag had somehow impersonated mine all the way through Customs.
Rushing back into the terminal my panicked brain began to fill with awful thoughts of being stuck the whole trip with a stranger's clothes. Images flashed through my mind of me at all the wonderful events on our itinerary dressed in some sweaty man's mid-life crisis Ed Hardy T-shirt, G-Star jeans and fake Dolce and Gabbana sunglasses. Or having to tape my breasts down to get into a size 7 asymmetric pastel Supre number, which, if I'm being honest, I'd save for a slutty Halloween outfit. I haven't pulled off a single-digit dress size in a decade. Not a good start.
Thankfully, a quick word with the friendly, bemused Gold Coast airport staff saw me back through Customs and straight up to a disproportionately angry (I thought), red-faced man, (Also note: quite chubby, easily a 16) who was standing at a very empty carousel.
Well, empty except for my lone bag on its 15th trip back round. Crises averted. And that, honestly, was the last stressful moment to be had for the next three or so days of adventure.
What better way to forget about Mr Mc-Sweaty-Carousel Rage than to be driven along the beach-front in Mal's wonderful old car, drenched in sunshine.
Al too soon we met Jeff and Derek. Their job was to transfer us to the next part of our trip into the Hinterland. You see, the goal of our trip was to try and get away from all the usual cliches of the Gold Coast, to explore its "other" side. I didn't even know it had a Hinterland. Actually, I didn't even know what a Hinterland was. We just don't seem to have that term in our Kiwi vernacular, probably because "just headin' up a hill, bro", isn't that unusual.
But I was learning all this in style and fast, quite literally fast, after being trusted behind the wheel of a 1984 3500CC Morgan. The car was a beautifully kept $90,000 classic convertible with a proper throaty growl that reverberated off the rainforest which increased in density as we climbed.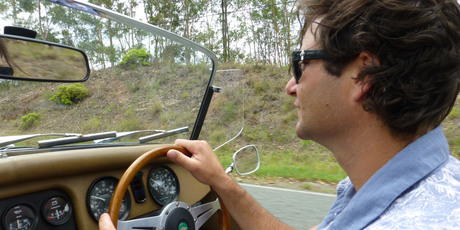 Up ahead, Aroha too was enjoying her drive. She was behind the wheel of a vehicle I was shortly to swap into, a supercar of dreams to many: a black Ferrari 360 Modena F1, arguably a slight step from her Mazda Autozamm. I watched in amusement as she adjusted to the unbridled power, squealing the tyres out of a roundabout. These incredible machines were courtesy of Rent-a-Classic and Rent-a-Dream Car who generously offer a selection of classic and supercars that you can actually free-hire. Meaning you can drive them off on your own. These are vehicles well-equipped to itch the scratch of any man's impending midlife adjustment.
Far too quickly we reached our destination in the village of Mount Tamborine, which I'd describe as the Titirangi of the GC, albeit a lot higher, bushier and with less of a bogan count. Up here, the temperature is much more regulated than the coast. It sits mid-20s almost year round, a feature appreciated as we wandered past a selection of inviting looking art galleries, shops and cafes. Lunchtime.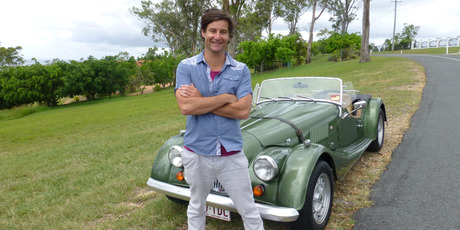 I'd discovered that recovery from my airport trauma had bought with it a cruel hunger.
But as fond as I am of cheese, I was apprehensive that our booking at Witches Chase Cheese just wasn't going to be enough. I needn't have worried.
Inside the factory is a delightful bistro called Three Little Pigs. You can always tell when a real love of food has gone into a menu and this one had it in spades (or should that be plates?). It included a mouthwatering line up of craft beers, cheeses, and wine matches, including locally sourced varietals.
With lunch, that included imbibing a buttery local Witches Falls syrah. Running overtime, it pained me to have to skip the craft beer tasting. However, there was no way we cheese-pigs were leaving without sampling the moulds on offer. This left head cheesemaker Adam, an ex-pat Kiwi from Puhoi, forced to give us possibly the world's first "speed-cheese tasting'' session.
The cheeses were many and superb. The self-inflicted rate of consumption and consequent state of "cheese-pregnancy'' however, was not. Hardly ideal preparation for our next appointment just up the road, a one-hour relaxation massage at The Escarpment Retreat and Day Spa. Staring down into the massage table's doughnut hole, manager Sue worked her magic, causing me to promptly nod off. A sleep just deep enough to have one of those "cheese-dreams'' where you're suddenly falling. I startled myself awake with a bit of a kick. I think I must have been bracing myself for some imaginary landing perhaps, as my left leg had sort of uncontrollably shot out, narrowly missing my poor masseuse. Awkward.
The next day, when we pulled back the curtains at our high-rise Gold Coast accommodation, the view almost felt contrived. Looking across the white beaches in the warm egg-yellow morning light, a groomed 3ft beach break pulsed in, with surfers doing their best to tear each wave apart. Looking out a bit further I spotted a pod of dolphins not just swimming casually by, but actually flipping out of the water. Then on-cue an attractive woman in swimwear appeared several balconies over, shaking sand out of her Louis Vuitton travel bag over the railing. And end scene.
The hotel was the QT Gold Coast - a funked-up affair, one block back from the beach where ugly people are clearly not allowed front of house.
And although I'm loath to mention the little weasel, this was the hotel made infamous by the Justin Bieber graffiti that the hotel chose to actually keep. Neither of us bothered visiting that though, as we were both too distracted by the hotel's "incredible buffet service". Now there's a group of words I never thought I'd put together. But seriously the breakfast buffet alone caused Aroha to squeal in delight. A perfect way to fortify ourselves for the glamour horse-racing event ahead. The Jeep Magic Millions is the Gold Coast's equivalent of the Melbourne Cup. The $5 million premier horse racing event is broadcast around the globe with a local crowd of 20,000 punters all turning up in their bests to have a flutter.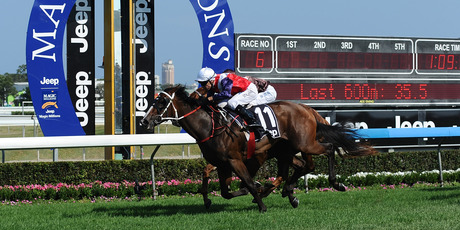 Not that we were treated as punters after nabbing the last two tickets to the Jeep Moet VIP marquee.
Seeing the standard of dress on display I was quietly pleased we both had put in a bit of effort. Quaffing free champers from huge gold Moet mugs, the VIP marquee was a fascinating affair. Especially being surrounded by Australia's A-list and not having a flipping clue who anyone was. Hilariously our assigned photographer kept insisting on a photo with "this person'' and "you must get a photo with this girl'', and "quickly come here because so and so has just arrived ... '' I kept nodding and happily went along, as it was a great excuse to meet glamorous types.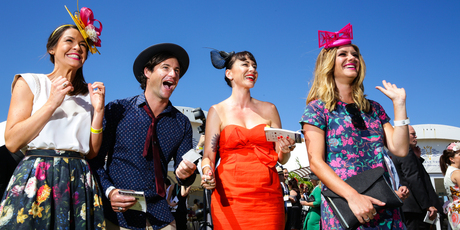 One of those people was model/racing ambassador/fashion "it'' girl and daughter to racing royalty Kate Waterhouse. Her mum is Gai Waterhouse, who trained the 2013 Melbourne Cup winner Fiorente. So when Kate gave me a hot-tip on Northern Glory in race seven, I paid attention. Up until then, Aroha and I had just been betting on horses that sounded fast. Of course when race seven came around we watched the horse we were both going to pick, Sweet Idea, come storming home in front, while soon-to-be-glue and hot tip Northern Glory failed to even place. Typical.
The following day was the pick of the weekend's weather, the type that has caused 30,000 Kiwis to make this place home. Hot and sunny, it was perfect for a harbour cruise to Sanctuary Cove with Sea World Cruises.
Super-friendly staff in a crisp, clean three-storey boat gave excellent commentary as we headed north. They pointed out bits of nature, mixed with "houses of interest" of the super-wealthy lining the shore. Protected from the open ocean by long sand islands, it really is a lovely stretch of sheltered water, spoiled only by the incessant drone of jet skis, although I'm told being high summer coupled with school holidays, this was the busiest time of year.
Seeing how all the super well-to-do lived, it felt entirely in keeping to have dinner at the opulent Palazzo Versace Vie Restaurant. Sample dish: Moreton Bay bugs with Canadian scallops and homemade ravioli. All served on a pea puree with fresh shaved zucchini and salmon roe. Damn, I miss that dish.
On the final morning, feeling guilty about her five-course breakfast at the super buffet, Aroha tried unsuccessfully to talk me into a run. Regan from First Wave Surfing had dropped off a brand new hire surfboard so I was straight out into the waves. This is a great service. You can hire a decent board which is dropped off at your hotel and picked up afterwards.
And suddenly, with a quick pat of a koala at the Currumbin Wildlife Centre, our weekend was over, both of us thoroughly impressed with this "other" side to a city of just 350,000.
IF YOU GO
Getting there: Air New Zealand flies non-stop to the Gold Coast from Auckland and Christchurch offering four different in-flight product choices including; Seat, Seat + Bag, The Works and Works Deluxe. Connections are also available from all around New Zealand and with partner airline Virgin Australia on non-stop flights every week from Auckland and Christchurch.
Clarke Gayford and Aroha Harawira travelled courtesy of Tourism Australia, Tourism Events Queensland and Air New Zealand.