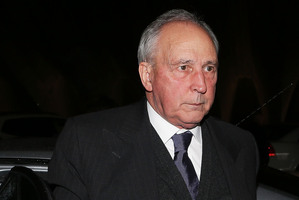 In 1993, in a particularly eloquent speech by a man famed for his oratory, then Prime Minister Paul Keating stood before the Tomb of the Unknown Australian Soldier and declared: "We do not know this Australian's name, we never will."
They were stirring words - but plans to have them engraved on the tomb at the Australian War Memorial in Canberra, in place of the inscription "Known unto God", have triggered public outrage, dozens of complaints and, reportedly, an intervention by Prime Minister Tony Abbott, a practising Roman Catholic. In the News Ltd tabloids, Miranda Devine fumed: "It beggars belief that anyone could delete such words, so rich with history and a sense of moment ... and replace them with contemporary sentiment from a divisive political figure." Another right-wing columnist, Nick Cater, described it as "a frightening act of hubris that politicises our most sacred memorial".
This week, the memorial's director, Brendan Nelson, backed down, announcing that the original wording - penned by Rudyard Kipling and inscribed on the headstones of more than 200,000 unknown soldiers from Commonwealth countries who died in World War I - would stay. He pointed out that "Known unto God" was engraved on the tomb only in 1999, six years after the remains of an unknown Australian soldier killed on the Western Front were exhumed from a French cemetery and re-interred at a ceremony presided over by Keating on Armistice Day.
Nelson, a former Liberal leader, said the governing council had decided to replace them because Charles Bean, the Australian war correspondent and historian who was the driving force behind the war memorial, had envisaged it as a place with "no religious symbols or references". He told the ABC: "This was never driven by some suggestion that we should remove God, or [by] political correctness, or anything of the sort". Rather, on the 20th anniversary of Keating's eulogy, the council wanted "to give permanence to this towering speech by an Australian prime minister".
Nelson said the number of people supporting the change far outweighed the 30 or 40 people who had complained, and who included war veterans, Christians, historians and politicians. Although Keating is still the bete noire of the political right, antipathy towards him was not the only reason for the outcry. Some critics were upset about the "de-Christianising" of the memorial, according to Nelson, although it was always intended to be a secular institution, while others wanted the inscription to follow tradition.
Keating will speak at a ceremony at the memorial on November 9, and the governing council will go ahead with plans to replace the words "He symbolises all those Australians who've died in war", inscribed on the tomb's stone surrounds, with another quotation from the speech: "He is all of them. And he is one of us."
A bronze plaque containing the entire speech will be hung outside the Hall of Memory, where the soldier is entombed.