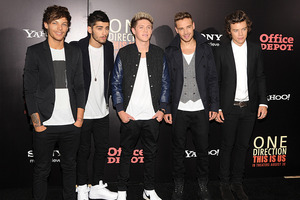 Boy band mania has hit Christchurch with One Direction fans camping out at the city's airport, despite being told they'll be disappointed.
The English pop group of Niall Horan, Zayn Malik, Liam Payne, Harry Styles and Louis Tomlinson open their New Zealand tour in Christchurch tomorrow.
Rumours have been swirling the city about just when they will touch down by private jet after flying in from Sydney.
Christchurch Airport bosses told fans to stay away as they have no chance of seeing the lads.
"If you're wondering about 1D - please don't come to the airport next week in the hope of seeing them,'' the airport posted on its website.
"They have asked us to tell you they won't be visible to the public. They won't be available for photos or autographs. Sorry to disappoint you, but you won't see them here.''
But some fans were undeterred by the move, and camped out at the airport last night and again today in the desperate hope of seeing their idols.
"I'll stay as long as it takes - overnight if I have to,'' said 11-year-old Emily Valentine.
She and friend Emily Coull, 17, spent all afternoon at the airport.
Miss Coull, from Hillview Christian School in Christchurch, was devastated she has just a slim chance of seeing the band, especially her favourite, Harry.
"I don't agree with [band] management,'' she said.
"They've never come here before, and there's not many of us. So I just think they could come and say hello and have a conversation with us.''
The two friends were joined by a handful of other hardcore supporters on school holidays.
Social media was rampant with chatter about when the boys might be arriving and where they might be staying.
Some suggest they've already arrived.
Bearing in mind the lack of quality post-earthquake city accommodation, some suggest they'll be staying at The George hotel by the Avon river, or Hagley Park, where the All Blacks stay when in town.
Others suggest the golf-mad singers might hunker down at Clearwater on the northern outskirts of the city.
Security will be tight wherever they are.
CBS Canterbury Arena was a hive of activity today as staff geared up for its biggest gig in years.
Around a dozen fluoro-vested and hard-hat workers spent hours unloading three huge trucks, while front-of-house staff set up the lucrative merchandise stalls.
Police say they will have a ``significant presence'' at the concert venue, both inside and outside, and will also be escorting the group to and from.
"We hope the crowd will be well-behaved but we'll be on hand to monitor the event, support the venue security staff and help ensure everyone enjoys the concert,'' a spokesman said.
Two tickets sold this afternoon on Trade Me for $315.
Another two tickets, not seated together, were being offered for sale with an asking price of $270.