Chris Reed escapes the rat race to find splendid isolation on a road trip through Outback Queensland.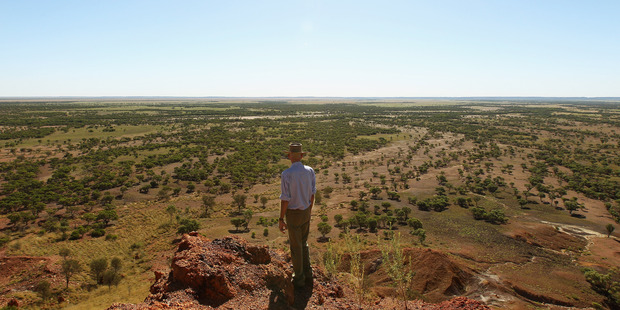 To the right, the setting sun, a blaze of burnt orange bisected by lines of wispy cirrus cloud. Above, the sky a blunted cobalt blue, already resigned to night.
To the left the moon rises fast, casting a watery glow over the gum trees and scorched earth.
Between the moon and me, one of the man-made reservoirs on which Carisbrooke Station depends. Kangaroos edge towards the water, eyes fixed warily on the human presence.
Charlie Philpott, who runs Carisbrooke with wife Penny, reaches into a cool bag on the back of his ute and pulls out a plastic container full of cheese, crackers and homemade relish. He returns to the bag and hands me an ice-cold beer. The only sound is the wheel of a windmill turning.
I think I could learn to love it here.
Carisbrooke is about an 80km drive from the nearest town, Winton, in the heart of Outback Queensland. Winton is more than 1400km from Brisbane. Some of the locals are less than impressed when people break the journey.
They're laconic in a way that makes Speight's Southern Man look like Graham Norton.
This an ancient land formed by unimaginable forces, settled by the brave, shaped by myths and legends. It's as close to the American Wild West as you'll find Downunder.
Carisbrooke is a working station, cattle not beef. Drought is ever-present, a threat now and to the future. Tourism is a key part of Charlie and Penny's operation.
Visitors can stay at camp sites, caravan sites or in one of three self-contained units. I stayed in one of the latter, returning after my tour of the station to homemade dinner and breakfast, and lots of it.
They chuckled when I asked, but they've got electricity.
I was out with Charlie for about three hours. We saw Aboriginal ceremonial sites. We drove up a ridge and took in a series of views of The Three Sisters, hills jutting into the vast plain, his land stretching as far as you could see.
We stopped, walked a short way down a bank to a clifftop. Charlie said he'd show me some Aboriginal paintings in Python Gorge.
I asked how it got its name. Stupid question. With a stick, Charlie roused a python resting after the exertions of eating whatever dog-sized creature was distending its belly. It reared, I recoiled. I'm not big on snakes.
We saw the site where a Flying Fortress containing future US president Lyndon Johnson landed after the pilot got lost and almost ran out of fuel.
Charlie showed me the Keyline irrigation system his dad installed. It was Queensland's first. We talked drought. It's bad, but Charlie's not convinced global warming is to blame.
I think it was the longest uninterrupted conversation I've had for years. Uninterrupted by telly, email, cellphones, Twitter, Skype, door-to-door salesmen. I'm no Luddite but it was good to have a break.
You could lose yourself out there. Some do. British backpacker Samuel Woodhead claimed to have survived on contact lens solution while missing for three days earlier this year after leaving a cattle station near Longreach for a jog.
Quite why anyone would go for a jog in the Outback in February escapes me. It was hot even when I was there, the week before Easter, the traditional start of the tourist season. Temperatures drop in winter, although you wouldn't be cold.
Most tourists are Australian, and most of them so-called Grey Nomads - baby boomers cruising their country in monster motorhomes. There's little backlash against freedom campers, though. If you've made the effort to get there, you're a valued visitor.
Wherever I went, I got a sense of tourist operators working together to harness the industry's potential. When the fate of farming is beholden to the weather another revenue stream is crucial.
It's not a destination for everyone. It won't be everyone's idea of pretty, although I found it starkly beautiful. It can be very hot and distances between towns and attractions are generally long. But for those who find beaches boring, there's plenty of interest - dinosaurs, social history, aviation, geology. That shouldn't make it sound over-serious. There's lots of fun, some of the friendliest people I've met, outstanding pubs and some seriously good driving.
I don't want to get all Jeremy Clarkson (I can think of few things I'd like to do less, in fact) but there was something marvellous about getting in a big car and settling down for a long stretch of driving on arrow-straight, almost-empty roads.
My route took me from Longreach, north-west to Winton and Carisbrooke. I drove back through Longreach to Ilfracombe and Barcaldine before turning round again and ending my journey where it began.
I've often read that there's nothing in the Outback. That's lazy and wrong. The variations in landscape and flora are subtle, changes caused as much by the time of day as location. A rock outcrop that looks bleached and lacking definition when the sun sears overhead is imbued with vibrant hues as the day ends.
The vegetation is varied, albeit subtly. There are national parks, lakes, creeks and rivers.
Emus roam, 'roos steer clear till dusk, although the repercussions of their dalliances with the thundering road trains - lorries pulling two or three trailers - are evident in the frequent roadkill.
Fuelled by an outstanding bacon sandwich from the excellent Marino Bakery in Longreach and armed with an array of drive-friendly CDs, I headed for The Australian Age of Dinosaurs (see story on page 4) and Winton.
Winton has a population of about 1000 and a handful of pubs, most along the main street.
One, the North Gregory Hotel, is indelibly linked with Australia's unofficial national anthem, Waltzing Matilda. It's said to be the location of the first public performance of the song, written by bush poet Banjo Patterson at nearby Dagworth Station in 1895.
Today it's an Art Deco treat. Restored and under the direction of new GM, Cam Johnson, it offers rooms for all budgets, free parking for motorhomes, excellent pub food and cold beer.
Waltzing Matilda is a big deal here. The song has its own day and museum. The other claims to fame are Qantas and dinosaurs.
It's claimed Qantas (Queensland and Northern Territories Aerial Services) began here, with the the first board meeting at the Winton Club in 1921. Besides the Australian Age of Dinosaurs, it's also about 100km from Lark Quarry Conservation Park, where 3300 fossilised footprints provide the world's only recorded evidence of a dinosaur stampede.
Winton's claims on Qantas haven't stopped the Qantas Founders Museum in Longreach going from strength to strength. Its international-class museum is a success in a town of only 3600 people.
The Qantas museum is almost opposite the Australian Stockman's Hall of Fame, a tribute to the pioneers who settled the Outback.
The centre, opened in 1988, has five galleries displaying the history behind some of Australia's greatest explorers, stock workers, pastoralists and Aborigines.
Some of that history comes to life on a Cobb & Co tour, one of a string of tourism ventures owned by local couple Richard and Marisse Kinnon.
The tour offers an exhilarating horse-drawn stagecoach ride - they're the only operator in the world insured to reach a gallop of about 40km/h - across Longreach's commonland.
I sat up front alongside Richard as he delivered commentary to the other passengers, dust flying from the four horses' hooves.
The Kinnons are another example of station owners diversifying. Their company, Kinnon & Co, also offer cruises on the nearby Thomson River, a comedy show about the antics of cattle thief Harry Redford, Outback camping and, new for this year, a starlight sound and light show.
They also own accommodation - the Kinnon & Co self-contained Outback lodges offer all mod-cons in walking distance from Longreach's major museums.
If the Stockman's Hall of Fame tells the story of those who settled the land, Barcaldine is more closely associated with the social upheaval that followed.
The town, known simply as Barcy, is home to the Tree of Knowledge, a 150-year-old ghost gum that was the meeting place for striking shearers in 1891. Although their strike was ultimately unsuccessful, it hastened political change that ended with Queensland electing the world's first Labour government in 1899.
The tree was poisoned and pronounced dead in 2006. It's still there, surrounded by architecturally designed protection in the form of hanging pieces of wood that represent the spread of its branches during life.
I learn this from Barcy Mayor Rob Chandler, a proud and passionate man, who gave me a tour in his ute. We met at the Australian Workers Heritage Centre, a large museum about the country's working heritage.
The Great Shearers' Strike of 1891 features prominently.
One night, more than 1000 men downed shears and marched by torchlight through Barcy, demanding better conditions for graziers.
Eventually 14 leaders were arrested and tried for conspiracy. Twelve were convicted and sentenced to three years in prison.
That May 1, almost 1300 supporters marched through Barcy, Australia's first May Day commemoration.
Today the town still has an annual May Day festival, although the mood is more celebratory - locals race goats rather than chase votes.
This is a region proud to remember its past; from the dinosaurs that roamed 100 million years ago to the settlers, shearers and aviation pioneers who founded what became one of the world's biggest airlines.
Tourism might be its future, but I doubt there'll be any change to the way visitors are treated - as individuals, rather than a commodity.
And there aren't many other places left where you can get away. From it all.
CHECKLIST
Getting there: Qantas flies daily to Brisbane with ongoing connections to Longreach, Barcaldine and beyond.
Online: queenslandholidays.co.nz
OUTBACK AUDIO
Chris Reed's top gear for a top drive
The Black Keys - El Camino
Arctic Monkeys - Suck It and See
Sasha & John Digweed - Renaissance: the Mix Collection
The Rolling Stones - Exile on Main Street
The Smiths - The Sound of the Smiths
The Clash - London Calling
• Chris Reed travelled courtesy of Qantas and Tourism and Events Queensland.
Find out more at Australia.com