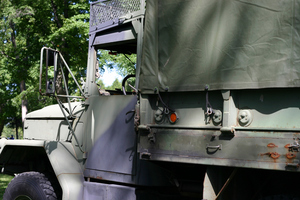 File photo / Thinkstock
A total of 18 Australian soldiers have been injured in a serious truck crash at Sydney's Holsworthy Barracks.
The heavy-duty, camouflaged vehicle crashed and rolled onto its side around 9am (AEDT) on Monday, deep inside the sprawling military reserve, southwest of the city.
An Ambulance Service of NSW spokesman says 18 people have been hurt, with most taken by road to local hospitals.
There are reports that one soldier is in a critical condition and has been flown to hospital.
Photographs and video footage of the accident show the truck lying on its side, next to an embankment with military backpacks and other equipment spilling out.
An injured soldier could be seen being placed onto a stretcher and the road around the truck had traffic cones placed around it.
Another soldier was seen lying on the grass receiving medical treatment.
A Defence spokesman said information about the accident was still being collated and would not provide any further details.
The military base is home to the 17th Signals Regiment and plays host to visiting commando and other combat units.
- AP