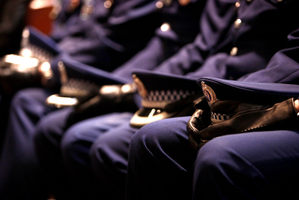 Des Campbell told police she fell over the cliff while answering a call of nature. Photo / Getty Images
Is Des Campbell a serial womaniser and gold-digger who threw his new wife off a 50m cliff so that he could inherit her fortune? Or is he the victim of a miscarriage of justice, two years after being convicted of her murder?
Those are the questions that will confront the New South Wales Court of Criminal Appeal if Campbell, a former ambulance officer and English policeman, has his way.
He has instructed his lawyers to prepare an appeal against his conviction and hopes it will be heard in the next six months, the Sunday Telegraph reported yesterday.
Campbell was jailed for a minimum of 24 years for inflicting a "truly awful" death on Janet Fisciaro, his wife of six months, during a camping holiday in 2005 in the Royal National Park, just south of Sydney.
He told police she fell over the cliff while answering a call of nature. The jury found he pushed her, motivated by "monetary gain".
Fisciaro, from the NSW country town of Deniliquin, was a wealthy farmer's widow when she met Australian-born Campbell, who - unbeknown to her - had a string of ex-girlfriends out of whom he had swindled hundreds of thousands of dollars, her inquest was told. Her family tried to warn her off him, but she was smitten by the "manipulative" and "charming" 54-year-old.
Fisciaro, who had inherited A$500,000 ($646,562), was "an outgoing, generous, warm-hearted and somewhat naive middle-aged country woman", said the trial judge, Justice Megan Latham. Campbell, who pitched their tent a few metres from the cliff edge, had a "capacity for deception, duplicity ... and cruelty".
Campbell did not attend his wife's funeral, and a month after her death flew to Queensland for a five-star holiday with one of at least three other women he was seeing at the time.
Now in prison at Goulburn, NSW, he is hoping to emulate Gordon Wood, who was acquitted in February of throwing his girlfriend Caroline Byrne, a Sydney model, off a cliff, according to the Telegraph.
Wood, who had been in jail for four years, was released after the appeal court found there was insufficient evidence to convict him beyond reasonable doubt.
Campbell, who served in the Surrey police force during the 1990s, will not present fresh evidence to his appeal, but will present "technical arguments" against his conviction.