Colin Mathura-Jeffree is blindsided by a moving exhibition at the Queensland Art Gallery.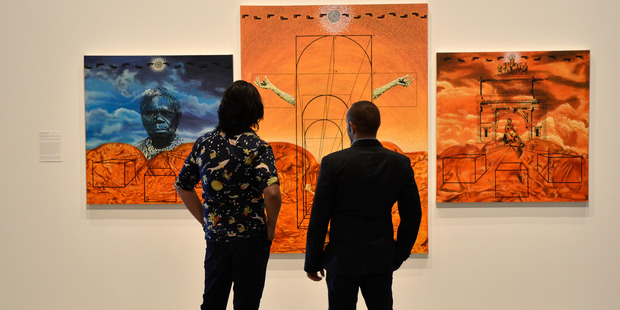 Australia is voraciously appreciative of art. That is my observation after making time, during an itinerary packed with designer boutiques, sensational shows and delicious offerings from wonderful chefs, to see two shows at the Queensland Art Gallery.
First up is the Quilts 1700-1945 exhibition.
I do have to admit this heartwarming exhibition is not one I would normally seek out, but in the true spirit of my Australian experience, I immerse myself in the moment. There is certainly plenty to appreciate in every one of the 30 bed covers displayed as wall hangings, and it's mind boggling to learn that people worked on these pieces as far back as two centuries ago.
Each quilt tells more than one story - and there must be many more unknown stories about the makers of these historic masterpieces. They really are art - beautiful, detailed and thought-provoking.
It's a sad fact that we live in an age where most of us consider we don't have the time or the skills to craft an intricate piece that tells a story of the person or family it is made for.
I want to own some of the pieces (well, that seems only natural as an extension of my brief for shopping and shows). Some of the quilts are fragile; one in particular will not be shown again. How fantastic that I see it, and sad that it will finally be put to bed.
I am told more than once that every stitch tells a story. My favourite quilt was made in India; its design perfectly patterned by an English army officer. (I'm guessing he was faboosh). Another exhibition favourite is the Rajah Quilt, dated 1841. This extraordinary patchwork, on loan from the National Gallery of Canberra, was sewn by women on the convict ship HMS Rajah, during their transportation to Tasmania in 1841. How could a horrific journey have produced such beauty?
The other exhibition I see is My Country, I Still Call Australia Home: Contemporary Art from Black Australia. This is the gallery's largest exhibition of contemporary art by Aboriginal and Torres Strait Islander artists. It explores three central themes - presenting indigenous views of history (my history), responding to contemporary politics and experiences (my life), and illustrating connections to place (my country).
The art is absolutely stunning in such a variety of styles, from traditional to contemporary and sculpture. I'm not talking ethnic cliches that we are seeing more and more, ripped off by high fashion designer collections, but well-formed expressions of emotion through being Aboriginal in Australia. It's seriously in your face. Some pieces are actually comical, such as the moving pictures of ethnic people being photographed while the white photographer tries to exhort cliche images of "black savagery" from them.
The photographer holds a spear, wiggling and jumping as the "savages" try not to laugh at him. I've been there in a photo-shoot or three ... I guess not a lot has changed.
An installation of lights, denotes ship lights reflecting on the sea at night as they approached Australia, as the Aboriginal people would have seen them. My guide looks at me as tears sting my eyes and he asks, "What are you feeling?"
All I can mouth is, "I'm furious".
This exhibition hits profound emotional chords. Racism is real. It stirs up feelings. I always was taught to be the bigger person, to never step back and bow your head to someone who tries to take away your right to exist, to have dignity in such revolting adversity.
The truth about racism is it blindsides you. You are never fully prepared to be disregarded on the simple reasoning that you are different in the tone of your skin or the shape of your nose.
I've experienced racism ... many people have - whether dark or white.
Racism is not exclusive, but it is pathetic. I'm far from perfect as a human being. I can be charming but I've had my shameful moments, too, of utter cruelty.
This exhibition allows me to look through the eyes of a people humbled by their situation. I walk out feeling stronger, more vibrant and a better person. Words can't express the experience of this exhibition.
If we should be so lucky to have this exhibition come to New Zealand, I challenge you to see it with an open heart and mind and you will walk away a better person for it.
BRISBANE EVENTS
Christmas in the City
Brisbane CBD plays host to Australia's most extensive free festive entertainment programme running until Christmas Eve. The 180 events and 500 performances include large, deluxe Christmas ornaments plus twinkling lights and shimmering baubles in the Queen St Mall, the 10-day Myer Christmas Parade and Pantomime, South Bank's Bright Star Carols featuring The Voice Australia stars Harrison Craig and Luke Kennedy plus the Gold Lotto City Hall Light Spectacular's 3D animated light show at the Brisbane City Hall.
Cai Guo-Qiang: Falling Back to Earth
Falling Back to Earth, presented by Tourism and Events Queensland and Santos GLNG Project, at the Gallery of Modern Art, features three major installations. The exhibition centrepiece - Heritage 2013 - includes 99 replicas of animals from around the world, gathered to drink from a lake surrounded by pristine white sand, reminiscent of the lakes of Moreton Bay's islands. The second installation, Eucalyptus 2013, responds to the ancient trees of Lamington National Park in the Gold Coast hinterland, while the third - Head On 2006 - is an installation of 99 artificial wolves leaping into a glass wall.
California Design 1930-1965: Living in a Modern Way
This exhibition shows a broad spectrum of industrial, architectural, commercial, fashion and craft design from California. Pre- and post-war Californian designers introduced numerous innovations and exploited the availability of new materials. Many of these materials and techniques grew out of the defence and aerospace industries and defined modern American material culture. Objects by Charles and Ray Eames, Henry Dreyfuss, Dorothy Wright Liebes and Raymond Loewy all feature, and household names Levi Strauss and Mattel are profiled through displays of fashion and children's toys. The Queensland Art Gallery exhibition runs until February 9.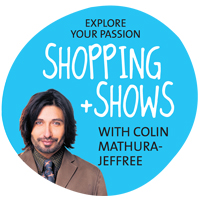 American Ballet Theatre
The American Ballet Theatre performs at the Queensland Performing Arts Centre in August and September next year. The ABT is known for its quality and innovation.
IF YOU GO
Getting there: Fly with Air New Zealand.
For more information see: Explore - Shopping and Shows.
Colin Mathura-Jeffree travelled to Brisbane with the assistance of Tourism Australia, Tourism and Events Queensland and Air New Zealand.