Colin Mathura-Jeffree shops til he drops in Brisbane
Before we begin this little journey, I need to share an embarrassing secret with you all. I knew Brisbane is an Australian city, but if you had asked me to point it out on a map, I would've lost the game show.
I am in Australia to experience glorious fashion, events and shows. I am just a bit surprised to learn Brisbane is on the itinerary for these experiences. But within moments of landing at Brisbane Airport, I am not just eating my words, my eyes are eating up everything and I am asking for seconds! It helps that it is a deliciously warm day. Just how I like it.
Guide Amanda Kruse from Shop in Style and Brisbane's Hidden Gems Tours has such an eternal smile I start to imagine she is a Stepford wife. There is literally nothing she will not do to make sure I feel like the biggest celebrity in Australia.
She delivers me to the luxury boutique Emporium Hotel at the heart of Brisbane's fashion precinct, Fortitude Valley. This is only minutes from Brisbane CBD and close to the airport, cruise terminal and the Gateway Motorway linking the Gold and Sunshine Coasts.
The tall and athletic concierges explain the gym in the hotel is good but I should go to the one down the road. For a second I think I am on the set of Home and Away.
This hotel is all kitsch and red, my style of crazy, and on my bed are macaroons. I make a mess taking a bite out of every single one and declare butterscotch my winning flavour.
Maybe I do need to go to that gym! Perhaps later, as Amanda is taking me on one of her Hidden Gems half-day tours through "The Valley".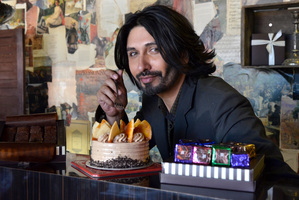 First stop is gorgeous Dello Mano chocolate shop/cafe run by loved-up couple Bien and Deb Peralta, who tempt me with homemade chocolate brownies flavoured with pistachio, rose water, macadamia and whisky truffles and more along, plus an amazing signature hot chocolate. Their celebrity clients include Ashton Kutcher who loved these brownies so much he had them sent over to Milan for his 33rd birthday bash as gifts for his guests.
I think Bien and Deb like me because they produce a chocolate martini especially pour moi! I don't care what time it is because I am on a roller coaster made of chocolate love, and you certainly don't need to walk a straight line to appreciate fashion.
Amanda's tour is like going shopping with your BFF. She dreamed up the idea when she was having a decidedly average time on holiday in Eastern Europe, frustrated at not being able to find the best shopping.
Basically, she waved her arms about explaining what she needed to see and her hotelier brought in his girlfriend to take Amanda shopping. Amanda returned to Brisbane and created the Valley tour to be that girlfriend who takes you shopping.
And indeed, walking through the valley is so pleasant, its streets are tree-lined and the shops are full of smiling faces.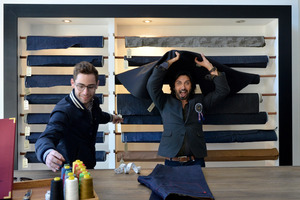 I have heard about Initial Denim and Lachlan Sinclair, one of the guys behind the label, explains how they create or recreate your favourite jeans in denims sourced from Japan, Italy, the US and Turkey. They also have a pattern-cut design on what they perceive to be the best designer jeans which they create to fit you, the customer. These guys are on the pulse of what discerning clients want.
The shop is every bit a designer showroom - simple and masculine with a giant photograph of a long-haired model - Lachlan says the model is the local pizza boy. He should be modelling in Paris, Milan, Auckland! As we leave, Lachlan runs after me and says, "You were the King of India on Xena?" He Googled me within seconds of leaving ... they're all as sweet as the chocolate here.
We continue on our walking tour - I spy Camilla Franks who is basking in the fame of Oprah buying one of her colourful silk dresses, designed for women to host dinner parties or to chat to neighbours over the fence like you're some fabulous heiress of the suburbs. Well, if it's good enough for Oprah it's good enough for my mum.
The Valley is full of eccentric, faboosh stores. Brunswick St's In.cube8r is a gallery of offbeat designers selling creative yumminess, Ann St showcasing designers such as Deanne Maiocchi, to James St with menswear stores such as Dirtbox (LOL) and Gail Sorronda who supplies Milano Store Spiga2.
Last stop is boutique perfumery Libertine where Gai shares 36 years of knowledge working in the fragrance industry. We are treated to her masterclass of fragrance as she pours Champagne. So I show her I can dance ... and she pours me another glass ...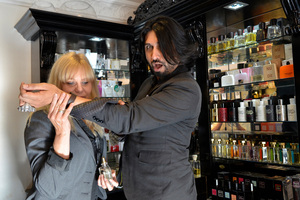 The whole day is like a chick-flick movie and I'm not sure whether it's the martini, the Champagne, the sunny day or my extraordinarily good mood but everyone seems to be super friendly.
To finish our day, we head for Ortiga on Brunswick St with its street-level tapas bar and stylish ground floor dining room. Our waitress suggests a variety of dishes - octopus, smoked eel, oysters, lamb's tongue, rabbit, slow-cooked lamb, all with amazing wines ... the food is beyond exceptional.
Back at my hotel and after a long shower, I crash on the bed and summarise my day.
The greatest thing about Brisbane is you don't feel out of place. The people aren't arrogant or pretentious; just secure with the lifestyle they have chosen. I'm definitely coming back, Brisbane. This affair has just begun.
Check out more of Colin's Brisbane adventure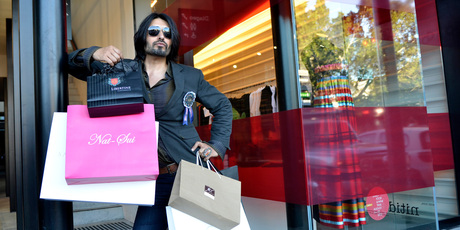 Explore the vibrant urban villages across Brisbane
South Bank, on the river's southern banks, is Brisbane's thriving cultural heart with musicals and international art exhibitions. Don't miss the Gallery of Modern Art and Queensland Museum.
West End, an inner-city suburb, is the bohemian heart of Brisbane. A quirky mix of multicultural, alternative and vintage, the shops, restaurants and atmosphere reflect the suburb's eclectic personality.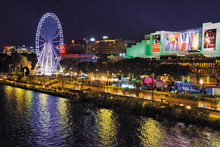 New Farm encourages an outdoor lifestyle. It has tree-lined streets and spaces such as the Brisbane Powerhouse and the heart of the suburb, New Farm Park. The Brisbane Powerhouse has been transformed into a landmark for theatre, music, comedy, film and visual arts.
The CBD is an urban village in its own right. The river is lined with alfresco restaurants and sophisticated bars with great views.
Don't miss just beyond Brisbane
Hand-feed wild dolphins at Tangalooma Island Resort on Moreton Island. It offers a playground of beaches, dunes and shallow freshwater lagoons. Try sand tobogganing, quad bike tours or snorkelling the shipwrecks.
Adventure seekers can kayak the Brisbane River at Kangaroo Point Cliffs. Every Friday night is a paddle and prawns extravaganza. Glide past the riverside landmarks and, back on dry ground, indulge in platters of ocean king prawns.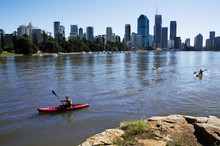 Cruise the Brisbane River on a City Cat or a city cruise to the historic Newstead House or to the Lone Pine Koala Sanctuary to cuddle a koala and feed the kangaroos. The world's first and largest koala sanctuary is home to 130 koalas, as well as platypus, Tasmanian devils, wombats and birds of prey.
Enjoy a spot of culture at the Queensland Gallery of Art and Gallery of Modern Art. In November, the year's most anticipated exhibition features one of the world's most innovative figures in contemporary art, Cai Guo-Qiang: Falling Back to Earth.
Lots of sporting events happen in Brisbane. Watch the return season of the Ashes at the Gabba in November or see tennis greats, including Roger Federer, at the Brisbane International in December.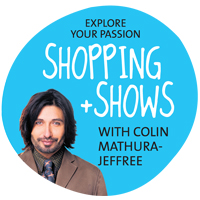 IF YOU GO
Getting there: Fly there with Air New Zealand.
Find out more at: Australia.com.
For more information see: Explore - Shopping and shows.
Colin Mathura-Jeffree travelled to Brisbane with the assistance of Tourism Australia, Tourism and Events Queensland and Air New Zealand.