Tim Roxborogh spins his wheels on a picturesque Queensland retreat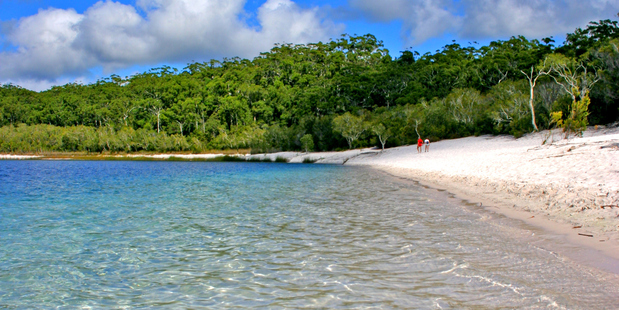 Despite having watched a vaguely alarming 4WD safety video, startling both for the presenter's Hawaiian shirt and for its grim 42 minutes outlining all the pitfalls of driving on the world's largest sand island, we still didn't really expect to get stuck. Me and a buddy had just checked out Fraser Island's most visited site, Lake McKenzie, its clear water ringed by white sand and framed by dark green rainforest.
Running out of adjectives, we also ran out of traction. En route to another of Fraser Island's postcard-pretty freshwater lakes, Lake Wabby, we finally succumbed and found ourselves immobile. What should we do? Luckily we'd watched the video.
The roads on Fraser Island are bumpy in a way that makes Vietnam's or Guatemala's seem autobahn-tastic, but being a sand island, the roads are just that - narrow sandy grooves, gouged through forest, connecting various lakes and villages. Well, we did want an adventure.
Truth be told, getting down on your hands and knees and digging your car out of the mound it's lodged in, while flagging down other drivers for help, while a downpour unleashes itself from nowhere, while you speculate you may never get freed is precisely the sort of stuff you know you'll enjoy in hindsight.
And that we did. Eventually, the churning wheels gripped, the rain stopped and we kept on exploring an island I'd always wanted to visit, but one that remains curiously overlooked by Kiwis in search of Aussie sunshine.
Queensland's Fraser Island is probably bigger than even most Australians realise, roughly three times the size of Singapore and almost entirely covered in rainforest, some of it surprisingly dense. Surprising because you don't normally associate lush foliage with plants growing in sand, and yet the sand on Fraser Island also happens to be some of the whitest this side of famous Whitehaven Beach in the Whitsundays. Add to that the quite stunning fresh-water lakes that dot the island and the purest bred wild dingo population in Australia, and you have a place that isn't just beautiful, but unique.
As for where to stay, there are plenty of camping options on 75 Mile Beach on the eastern side (a beach highway on which you need to heed the warnings of the video to avoid high tides, sand-breaks and the danger of dingos), but without question Kingfisher Bay Resort on the western side of the island is Fraser's premier accommodation.
The resort is really a village and is blessedly criss-crossed with tarsealed roads to link it all - but best of all is the overall design. The bulk of the resort's many awards have been related to its status as an eco-resort and, despite it's substantial size, the rooms, suites, lodges and houses all blend with the bush, lakes and pools in expert fashion.
It's a family-friendly resort, and if hiring your own 4WD is a little intimidating, there are plenty of cross-island tours the staff can arrange for you. If you're wanting to stay within the resort, there are canoes for hire, Segway beach tours, tennis courts, restaurants (you can even learn how to cook using ingredients from the Aussie bush), bars and two of the most imaginatively designed hotel swimming pools I've swum in. The pools are made to look like natural rock pools, and are curved and shaped among subtropical vegetation. There is also a small lake with a beach to link the two pools, all set about 100m back from the main beach.
During my five-night stay at Kingfisher Bay Resort, one of my favourite things to do after inland 4WD adventures, bush walks and epic tennis battles was to sit on the deck of my room and just look at the view. I had a lake, trees, a beach and an off-shore island to admire, as well as the setting sun. This is what an eco-resort should be like - beautiful and yet almost hard to spot amid the surrounds that made it beautiful in the first place.


Info
Fraser Island can be accessed from Hervey Bay, three-and-a-half hours' drive north of Brisbane. A 50-minute ferry ride will then take you to Kingfisher Bay Resort. Flights also operate from Brisbane and Sydney in and out of Hervey Bay. If you have a 4WD, you can take it on the ferry, though 4WDs can be hired on the island. For further information, visit kingfisherbay.com


• Tim Roxborogh stayed courtesy of Kingfisher Bay Resort.
• Hear Tim Roxborogh on Newstalk ZB's The Two (with Pam Corkery) on Friday and Sunday evenings from 8pm, and solo on Wednesday and Thursday mornings from midnight to 6am. Or read his music and travel blog, roxboroghreport.blogspot.com.