Gary Dickson samples Great Southern Rail hospitality.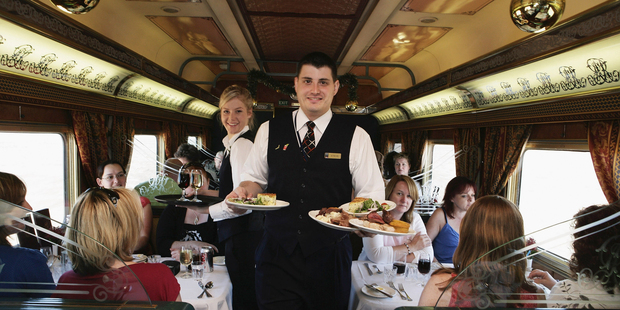 The romance of train travel is alive and very much kicking, thanks in no small part to the world's really special journeys - the Orient Express, South Africa's Blue Train and the Ghan in Australia.
So I jumped at the chance to board Great Southern Rail's Indian-Pacific Christmas journey from Sydney to Perth and experience an epic trans-continental trip.
The 4352km adventure began on a Wednesday lunchtime at Sydney's main rail station. There was a real excitement as I joined other journalists, TV crews and foreign correspondents on Platform 3. All I needed now was to have two travelling companions called Ron and Hermione and be pointed to Platform 9 and I would have spontaneously combusted.
GSR has been carrying rail passengers between Perth and Sydney for more than 40 years - more than three million passengers in that time.
Travellers can break up the journey in Adelaide and stay there a couple of days, but I wanted to experience the whole shebang in one go. Three days and three nights, with other stops in Broken Hill, Cook (look it up on Google) and Kalgoorlie.
We were each assigned our own cabin - Gold Class, no less - which have recently been upgraded and normally accommodate two persons. It's a train - you don't expect large cabins, but even with my 6ft 2in frame I showered comfortably and the length of the bed was more than enough to cater for me.
But there's absolutely no point sitting in your cabin by yourself watching the Nullabor Plain roll past. Train journeys are about the people you meet, as much as they are about the location and stops you make.
Normally entertainment is self-made on these trips, but there's often a celebrity aboard the Indian-Pacific Christmas run. We had Westlife's Brian McFadden on board. Each night after dinner he and his singing partner, Rob, would join us and belt out a few tunes. Unfortunately, by the end of the evening, some of us thought we could replicate Brian's dulcet tones.
The Outback Explorer lounge is the best place to meet other travellers. The entire carriage is a bar/lounge with comfortable seating and fantastic staff, not to mention the large windows for viewing the landscape. Much like game reserves in Africa, my fellow guests and I were competing against each other as to what wildlife we could see. The "Big Three" were kangaroos, emu and dingos.
Gold travellers get everything included in their ticket price - food, drinks, off-train excursions, and you can check in up to 90 minutes beforehand to get settled into your cabin and have a pre-departure drink.
Breakfast, lunch and dinner are all served in the adjoining Queen Adelaide restaurant carriage. I was amazed by the high quality of the food over the three days. If you saw the space that the chefs had to work in you'd wonder how they ever got anything other than a green salad to your table. The meals on the Indian-Pacific were restaurant quality and the wine superb.
The staff are excellent, too. Just imagine the best business/first class airline staff you've had - the staff on the GSR's Indian-Pacific are of that quality.
In an age when getting to one's destination quickly seems to be the most important thing, it was great to be able to sit back, relax, and watch the world go by. The landscape constantly changes across Australia and the people along the way, many of who rely on the train for supplies, are some of the friendliest you can meet.
From the kids we met at Broken Hill to the ZZ Top look-alike band at Kalgoorlie's infamous Exchange Hotel, everyone was pleased to see the train, its passengers, and to chat about their little slice of Australia, The Great Southern Land.
Where to book: GSR is looked after by Rail Plus in New Zealand.
• Gary Dickson is editor at large of Let's Travel magazine and was hosted by Great Southern Railways on his journey across Australia and flew to Sydney and home from Perth thanks to Qantas Airways.