As the weather cools down, grey nomads start preparing for their migration to warmer climes in Australia.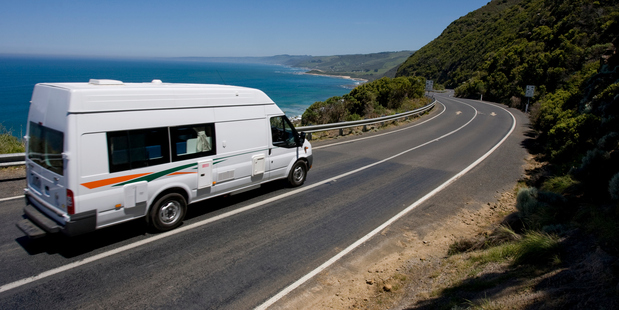 The legions of travellers who will be exploring Australia over the next few months are now beavering away at getting those caravans and vehicles ready to go.
The open road and a freewheeling nomadic lifestyle for retirees is a growth industry, despite rising fuel prices.
They're contributing significantly to Australia's NZ$8.5 billion camping and caravanning industry (the third largest in the world), with some figures showing each spending on average $605 a week while travelling.
They're pulling more than 330,000 caravans, motorhomes, camper trailers and campervans, not to mention slide-on campers, fifth-wheelers and pop-tops.
And then there's the off-road rigs, motorbikes and other vehicles to take off into the wildest and most remote bush.
For those who prefer the safety of bitumen, it's easy to stick to it now with Australia's roads much improved over the past 20 years.
And even places that sound rough such as the Oodnadatta and Birdsville Tracks are accessible to conventional caravans and campers.
Careful planning and preparation makes a big difference to the success of what can be a year-long odyssey.
If you haven't already bought a vehicle think carefully about what you want, considering your budget. For example, do you want a bathroom in the rig or are you happy to use facilities at a caravan park?
Towing a caravan can be stressful, and requires different driving skills from normal, so test driving is the key.
It's super busy out there too, with caravan parks often crowded in the dry season, particularly in popular spots such as Cairns and Broome.
Fiona Lyall and her husband, Bruce Hughes are setting off on a six-month trip-of-a-lifetime from their home at Murrumbateman near Canberra.
They had recently tested their second-hand off-road van with high-ground clearance, a sturdy frame and truck tyres by spending a month in Tasmania.
Now they are keen to see the Gibb River Road in the Kimberley in far north Western Australia but have no set times or plans.
"If we like a place we'll stay for a week,'' Lyall says. "If we don't like it, move on, there's something around the corner.''
Lyall, who'll celebrate her 50th at Uluru, has taken long service leave while her 61-year-old husband is retired.
"We're a little bit soft,'' she says. "We tend to choose caravan parks or showgrounds with power so we can put a heater on at night.''
But they also have a generator and back-up battery for lights, and gas for the fridge and cooking.
With so many opting to camp in free camping spots, if you pay for a caravan park you often have more privacy.
It's worth doing a "shakedown'' trip so you can figure out what is needed and what should be left behind and whether the caravan is going to fall apart.
"We had our pushbikes for Tasmania. We rode them once. (So) we've taken them out. We had a separate gas bottle and barbecue and we didn't use it once.''
One of the essentials is a really good bed, and they discovered in Tasmania they needed more foam and a woollen overlay.
While on the road you tend to see the same people every few days, which is helpful because you find out the conditions of up-coming roads, where the next supply of diesel is, cheap camping options, how to overcome challenges and tips such as which foods you can take over the border.
One tip they appreciated being told is when travelling on the Tanami and Gibb River roads, put some contact over all the air vents to stop the caravan filling with dust.
You soon also discover which caravan park owners actually like having people stay there or would prefer to keep pristine conditions.
Lyall says her and her husband also try to encourage local businesses, such as buying from fish and chip vans that come into the caravan parks.
And remember don't worry if something goes slightly wrong - it makes the trip "more memorable''.
Factbox:
Some tips for grey nomads:
* Save time with technology. Use internet banking to set up direct debit to pay bills. Keep in touch with loved ones on Skype, Facebook and Twitter.
* Do a budget well in advance of your trip, for major costs such as petrol, food and accommodation. Consider cost variations in regional areas, across different states, and peak versus low seasons.
For example, a powered caravan park site can cost upwards of $67 a night while national parks cost a fraction of this.
Keep some contingency funds for those once-in-a-lifetime opportunities like a helicopter ride.
* Organise a thorough health check for yourselves before you set off (not just your vehicle).
* Take safety devices like a sat nav (or decent maps), extra jerry cans, extra water, spare tyres and a first aid kit.
* Make sure your vehicle is fully insured.
* Head to a 4WD or campervan expo before you set off to know exactly what your vehicle is capable of.
* Don't feel guilty - many older travellers say they would rather spend their money enjoying their retirement than leave it to their kids!
- AAP