Tash McGill takes on a range of adventure challenges over four thrilling days.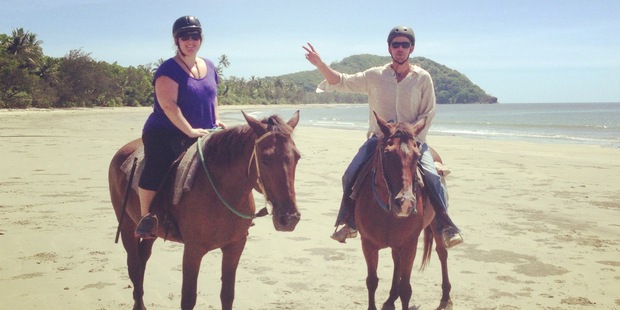 Several types of traveller exist: the soak-up-the-sun type, the party-all-night type, the museum buffs and then the adventurers. While one may have easy-going tendencies, becoming an adventure traveller has become a goal for this beach-lover. Thus, the challenge was undertaken - was it possible to learn to mountain bike, white-water raft, horse-ride and paddle board in just four days?
Learning all this action and adventure at home seems a little passe, but Far North Tropical Queensland is making a name for itself as the No. 1 adventure capital of Australia, with good reason.
You can book ahead or decide once you get there, depending on your mood and the weather. The one thing you want to take advantage of are some of the most experienced and professional guides in the business.
Aside from skill, experience and the right equipment on hand, the first thing you benefit from under the careful attention of a professional guide is confidence. Second, a great guide can adapt to your skill level and requirements, ensuring a more customised experience.
Hours of spin-biking in the gym are no preparation for mountain biking in the wild, but burning quadriceps were the last thing on my mind.
My last cycling experience was electric and the BMX bike of my youth was a distant memory. Climbing over the saddle seemed intimidating, but joining a tour group ensures you're unlikely to be the only one learning to manage gear changes and different braking techniques while navigating turns and jumps all at once.
Rather than borrowing or investing in gear at home, these bikes are well-maintained and even came with chilled water bottles. The biggest challenge out of the gym is remembering not to peddle so hard all the time.
Peter, from Tableland Adventure Guides, went at my pace, answered my frequent questions and offered plenty of advice - as well as calm assurance that I was doing great. For my inner perfectionist, my only goal was not to fall off so even a case of cycle-seat didn't dim my enjoyment of the day.
Honesty is the best policy, especially when perched on top of a large, potentially fast, horse. When Steve from Cape Trib Horse Rides asked if I'd ridden before, I explained that barely hanging on as a horse galloped for home couldn't really be called "riding". He laughed and set about teaching me the basic balance skills required for trotting, then cantering.
Over an hour and a half, we trekked through rainforest and along Cape Tribulation Beach in near solitude before perfecting a canter under the shadow of Mt Sorrow. Travelling at walking pace allowed plenty of time for conversation about the Daintree Rainforest and Steve's colourful life.
Almost without fail, adventure guides have some remarkable stories to share and inspire even a novice rider. When we had to dismount, I walked away without a cowboy stride but with a great deal more confidence - and the skills to ride again.
I have a natural affinity for all things water-related, so it was with a great deal of excitement that I faced rafting the Barron River with Raging Thunder Adventures.
This promised the perfect blend of water, speed and laughs. White-water rafting is a team sport, so makes for a lot of fun if you are travelling with friends or making new ones. All safety gear is provided and it's a good time they want you to stick around for, so those life-vests get used plenty.
Having an experienced guide at the back of the boat means rafting just requires paying attention, listening to instructions and trusting their technique - especially when it comes to getting you back in the boat, even if it was an intentional river swim.
Tash McGill was a guest of Tourism and Events Queensland.